10/10 would bet this is the kind of thing modern day Ariel would be into.
A few months before the lockdown, I found myself slowly but surely falling in love with the pleated balconette trend.
Once quarantine hit, I made it my mission to collect more of these gorgeous designs and took my sweet time sourcing other variations, assuming I'd eventually hit a plateau after collecting so many similar pieces.
And just when I thought my insatiable crave to own every version of this design would finally see its end, the trend's shorter and even daintier sister reared its unforgivably stylish head.
Meet the gathered bralette.
The gathered bralette comes in different shapes and sizes, but is typically characterized by loose pleats and gathering details. Different variations of this include brassieres, sweetheart necklines, squarenecks, lace trimming edges, and puff sleeves. It frequently lends a little bit more coverage than its predecessors, as it usually only shows a peek of décolletage.
So for my modest-hubaderas out there, this is for you!
It's no secret that the lines between intimate apparel and everyday clothing are getting increasingly blurrier, with decades worth of designers looking to transform lingerie into lifewear. We've seen it with shapewear turned casual corsets and nighties turned night-out silk gowns. Now, fashion has taken what once was paired with evening bloomers in the 1920s, and turned it into 2020's favorite day-to-night staple.
Here are 8 local brands who have jumped on this blast from the past.
1. By Abimer (@byabimer)
I had to start off this list with the first local designer that made me fall in love with this style. By Abimer is a non-seasonal runway-to-rack label that specializes in delicate lingerie couture. With its beautiful cream dotted eyelet pattern, the Mary Set had me completely enamored when I first laid eyes on it. I snagged the last piece of my size while shopping for my birthday gift, so I knew me and this top were meant to be.
2. Roma + Blanche (@romablanche_label)
Roma + Blanche is the image of sophistication with their monochromatic silk pieces. Their Sena Set features gathering at the bust, garterized lining, and luscious ruffle trim, giving just enough coverage to keep things secure yet cheeky.
3. Marieé Dainty (@mariee.dainty)
In a nod to vintage lingerie, Marieé Dainty brings 1920s and Victorian bedroom glam straight into the world of 2020. The brand is all sorts of period-genre elegance with their Kaia set, a silk scoopneck featuring ruffle trimmings and short puffed peasant sleeves. Paired with a set of matching bloomers, the nightwear label definitely lives up to their name in all their dainty glory.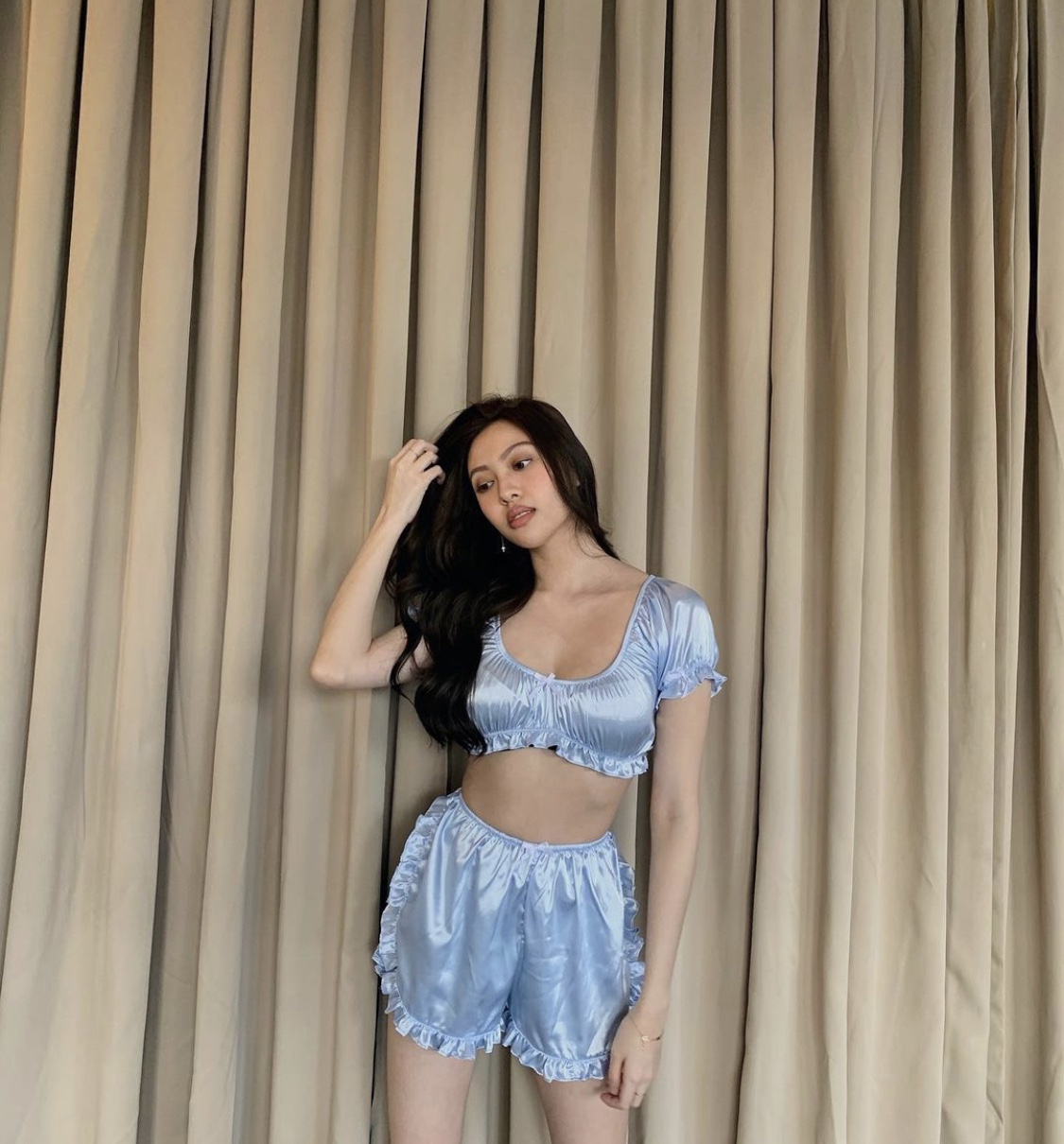 4. Venice Ventura Atelier (@veniceventuraatelier)
No one said intimates had to be simple, and Venice Ventura Atelier proves that. The luxury design house dropped their limited edition RTW loungewear collection last November and featured the Eve set, a stunning mulberry silk set with floral embroidered tulle sleeves. The black scooped base served as the perfect canvas for the embellished puffs, making every wearer sleep like nighttime royalty.
5. Suzy Clothing (@suzyclothing)
The embodiment of the delicate, feminine fantasy, Suzy Clothing is well loved for their dainty, pastel occasionwear. Their Renee Top comes in a wide array of stunning colors, beautifully highlighted through its charmeuse silk fabric, puff sleeves, and garterized hem.
6. Gaza Studios (@gaza.studios)
I've had my eye on Gaza Studios for a while now— I mean who wouldn't? Their main body, Gaza Stores, holds a beautiful selection of unique thrifted clothing, as well as repurposed vintage pieces turned en-vogue apparel. Their secondary shop, Gaza Studios, collects all their best thrift flips for easy access. I copped this gorgeous khaki crop top featuring bust gathering and bamboo buttons from their brand, and since then, have incorporated it in too many outfits to count.
7. Fifi's Vintage (@fifis_vintage)
Speaking of reworked pieces, this slow fashion shop is another one of my long-time favorite vintage curation brands. Among Fifi Vintage's many on-trend creations, their bralettes have been bringing in flocks of customers as of late. Each is uniquely made from upcycled men's shirts, allowing every set to come with both a brassiere and a matching cropped button down.
8. Eighth Mermaid (@eighthmermaid)
Sure this trend looks stunning as stand-alone bralettes, but it looks even better when turned into a dress. Eight Mermaid has been making waves in the Instagram scene for years for their premium swimwear, but their apparel honestly deserves just as much hype. Their Iris Dress features a ruched neckline and babydoll-style silhouette, giving the already dainty trend an even more delicate touch.
7. Budhi Collective (@budhi.collective)
What better way to cap off this already fabulous list than with the brand that gave me my first taste of the pleated bralette craze? Budhi Collective specializes in hand-picked vintage curation and home-made studio originals, infusing the rawness of their spiritual creative energy into every piece. A few months back they introduced their Tania Micro Brassiere in upcycled black satin fabric with a thick garter running from the straps to the neckline. I was obsessed with it, to say the least, and new I wanted my own special version. The beautiful team so kindly accommodated my request and crafted me this stunning customized puff-sleeve crop with ruffled trim, keeping the features of the brassiere intact. What a dream.
Where are you copping your gathered bralette?