The crossover we never knew we needed.
Back in August, I wrote a trend report about the resurgence of floursack fashion making rounds all over the international style scene. At that time, only a few local designers were delving into the world of ricesack repurposing, many of them opting to reserve the look for runway collections. In the age of Y2K and minimalist styles dominating the Filipino fashion mainstream, it seemed difficult to break the monotomy with a design that was completely out of the box— our should I say.. sack.
Enter: Habilin Clothing.
Habilin Clothing, also known as Hello Habi, is a conscious clothing brand making waves for transforming locally outsourced Katsa from nearby bakeries into gorgeous and in-demand pieces, easily marrying sustainability and style in one Instagram-worthy union.
What once began as a small passion project to add to the conversation about sustainable living has now grown into the fashion lover's favorite hot topic.
In fact, you've probably already seen their products while scrolling through your feed! In particular, their Habi's Panaderia corset line has given them a recent rise to cult favorite status here in the Instagram style scene.
The collection carries four prints; the El Superior (red and yellow tones), Azure (blue tones), Luna (multi-color celestial body theme), and the now sold-out Majestic (blue, red, and yellow). With its unique approach to the reigning "thrift flip" culture, it comes as no surprise that style-savvy girls all over the metro are flocking to get their hands on these floursack-based beauties.
Personally, what drew me so much to Hello Habi was their refreshing take on ethically-made clothing; as a linen lover, I'm no stranger to the world of green fashion, so it's truly rare for me to find a brand that doesn't take on the minimalistic route when creating their products. By putting fun colors at the forefront of their design vision, they give a playful and non-intimidating take on sustainability that, honestly, the movement has needed for so long. "It's more than a piece, it's an ideology." The Habi team shared.
When asked about the inspiration behind the Panaderia collection, they credited everyone's favorite quarantine app, Tiktok, for the push. "We were just scrolling through Tiktok like everybody during the pandemic and saw various DIYs and we thought, why not create a corset out of flour sacks? [..] What an edgy way to use flour sacks indeed."
And they were absolutely right— I've had my eye on local katsa-based clothing for a hot minute, but Hello Habi was the first I saw to turn them into corsets. Now, if you've been following me for a while now, you might know that I am obsessed with corsets or corset-style tops. There's just something about the silhouette that adds a little extra oomph to every outfit, so the Panaderia line was like the crossover between my love for Katsa and boned clothing that I never knew I needed.
But before they got the dough rising, The Habi Team went through a long process of researching to get where they are now. "If you were to ask us how two legal management majors started a clothing line—we have no idea as well. It took us tons of research, sampling, and outsourcing before we were able to finally push through with our first collection."
Through and through they have highlighted the wholly local nature of their brand, even sharing that it was a jutesack seller, the textile they initially considered, who recommended katsa. From idea to output, its clear that Hello Habi has never ceased in keeping their brand centered on the voices and efforts of our fellow countrymen.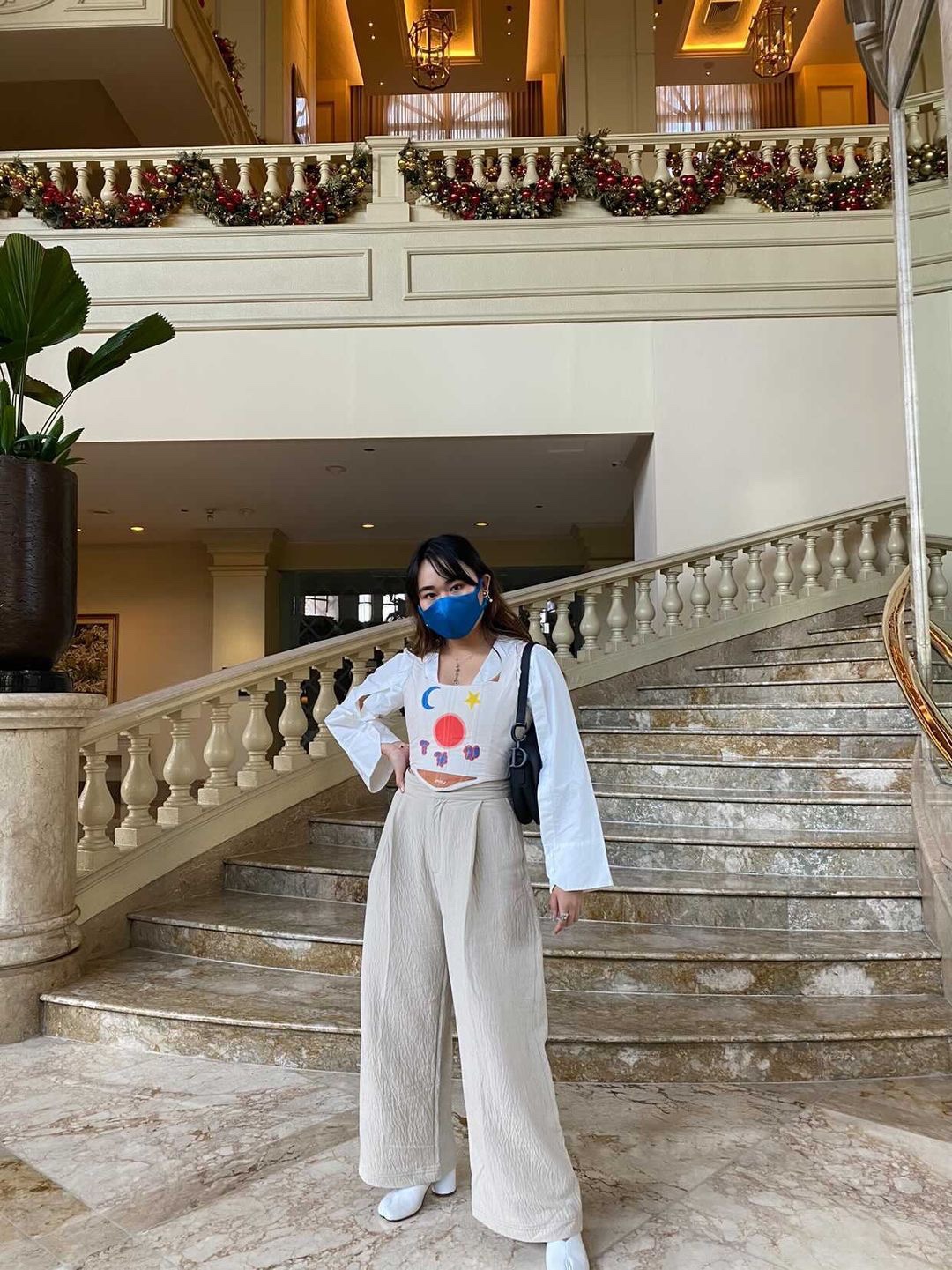 One might think it was a risky move to attempt to translate floursack fashion into the mainstream style industry, but the Habi Team believed that sustainability shouldn't only be a trend, but a principle, so should be given its best shot to persist where it can get the most attention. They knew they wanted to use a textile that didn't contribute to the already toxic and wasteful environment fast fashion has created, so despite the struggles of working with limited katsa material, they endeavored to push forward.
Today, Hello Habi stands as one of the many new conscious clothing brands capturing the hearts of social media savvy fashionistas. In a time where sweatshop-made clothing, unfortunately, continues to dominate the majority of the shopping industry, Habilin Clothing has become yet another reason for the regular buyer to turn to more ethically made fashion, and hopefully in time, make the full shift to eco-living.
A brand making a style and environmental statement? You can have the cake and eat it after all.
---
To see more of Habilin Clothing, click here to visit their Instagram page.