It goes without saying that for an avid fashion enthusiast like myself, the best part about traveling is definitely the shopping. The way I see it, shopping in itself is a whole other cultural experience. A brand's collections and styles vary per country in order to cater to the interests of the locals, so it's always amazing getting to see what each area offers.
This time, I'm giving you guys a peek at how I spent my month long vacation in America— particularly, what clothing pieces I spotted and just couldn't leave without, and how I was able to score some gorgeous designer pieces on a budget!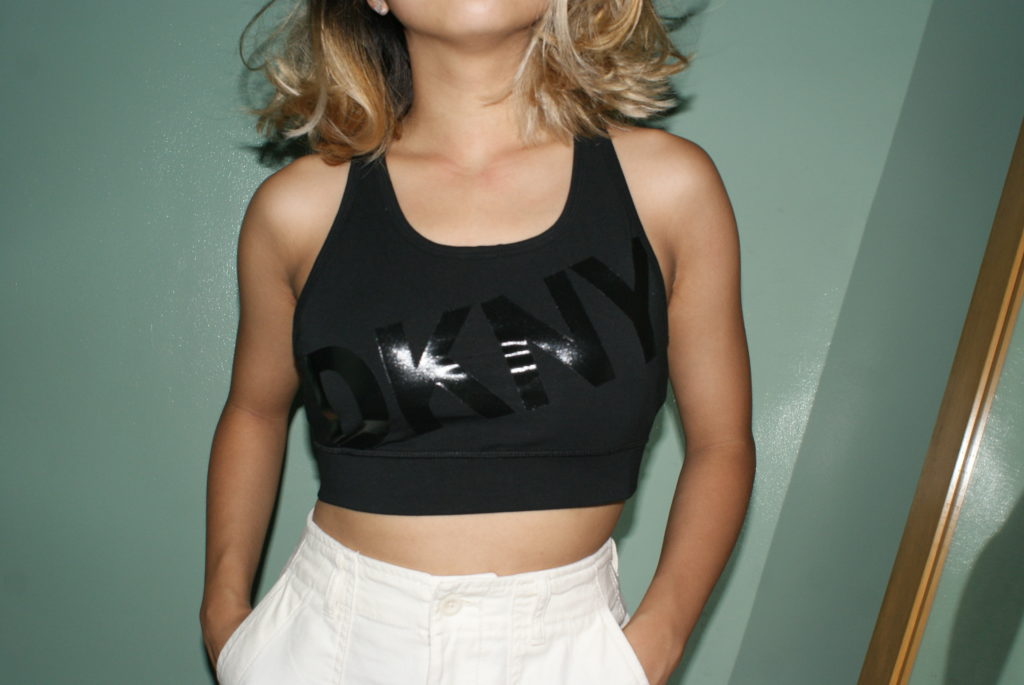 DKNY Sports Bra
Retail Price: $30
My Price: $18 – Never underestimate the power of a good off-price retailer. Off price retailers, also known as discount shops and clearance centers, sell the irregular overstock from department stores. This means that when a department store overestimates the demand for a certain brand's pieces, they return it back to the manufacturer who then sell it to off-price retailers at a discount in hopes of disseminating the supply. I got this sports bra from Ross Dress for Less, which is a well-known clearance center. Take note: These kinds of shops do not sell fake or knock-off goods. Everything is 100% authentic.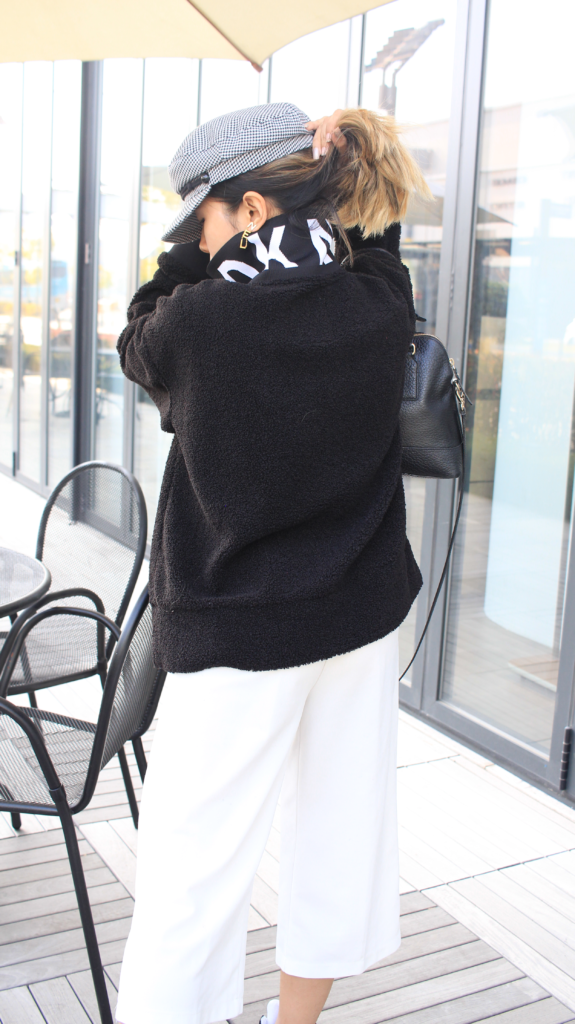 DKNY Fur Hoodie
Retail Price: $90
My Price: $34 – Ever wonder where all those left-behind clearance products go once the sale is over? Factory outlet stores serve as homes for a brand manufacturer's excess stock. Contrary to popular belief, no, they do not sell sloppy seconds or damaged goods here. Instead, they sell earlier seasons' collections and pieces with slight yet unnoticeable irregularities. During my trip, we stopped by the Orlando Premium Outlets mall where I found this cozy fleece hoodie from DKNY's official outlet store.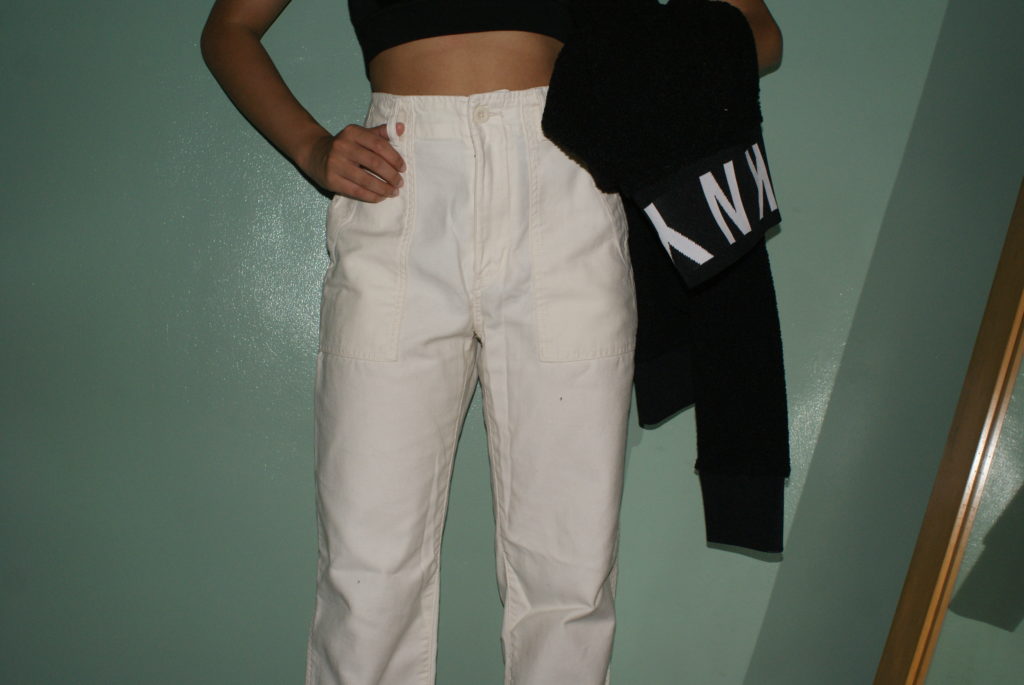 GAP Flare Pants
Retail Price: $60
My Price: $16 – There's a funny story about these pants that I need to share. While we were browsing our nth outlet mall, my sisters and I decided that shopping from The Gap meant getting the full All-American experience. While we were in their outlet store, we made a beeline for their clearance section in the back. I knew I wanted to snag some pants for cheap, so I was pretty disappointed when I saw their discounted flare jeans were still above $20. I was about to reluctantly make the purchase regardless just for the sake of novelty, until this cream pair of wide legged bottoms caught my eye. It was sitting in the normal-priced rack, so when I saw that it costed around $40 I wasn't too surprised. Afterall, The Gap was pretty expensive. But one thing you must note is that outlet stores give you rockbottom prices— whatever discounted price that's written on its tag likely still has an additional discount promotion depending on the store. And the moment I remembered that, I looked up at its rack and spotted the sign: "Take an extra 70% off". Score! From $40 to $16 (tax inclusive), let this steal remind you not to be deceived by a store's sale section— if you look hard enough, you may find a promo for the regular priced items that gives you an even better deal!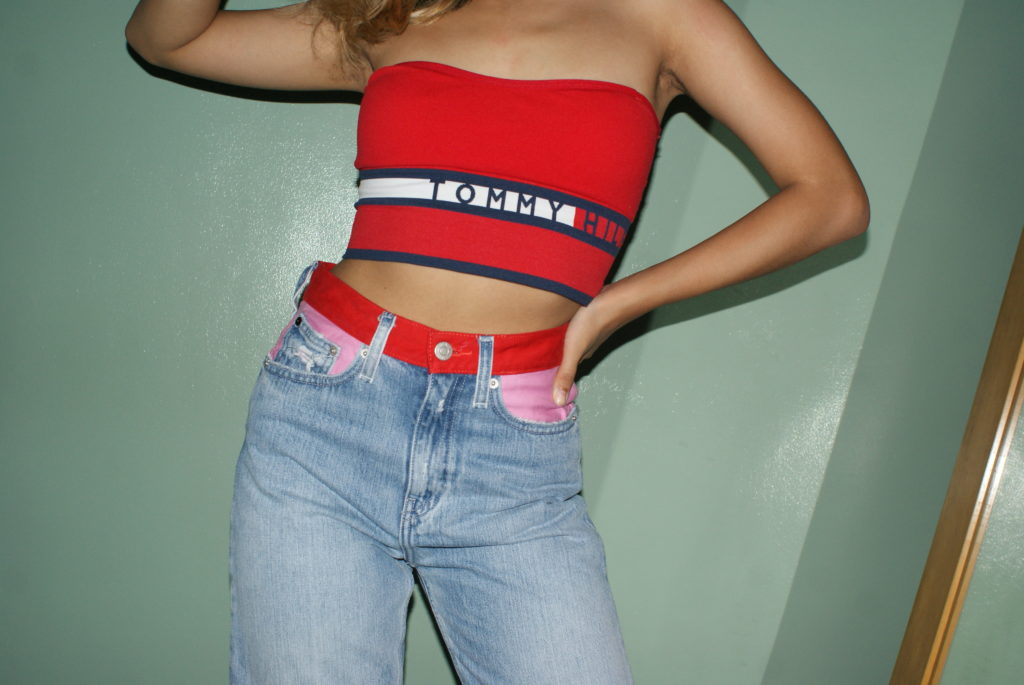 Tommy Hilfiger Bandeau
Retail Price: $30
My Price: $19 – When it comes to bargain hunting, a tip I will forever take to my grave is to get resourceful and outsmart the seller. When a seller spots a trend, like, let's say, smaller girls liking oversized sweaters, they will capitalize on it by selling purposely large sweaters in the petite section and pricing it higher. Some people buy into the trick, not realizing that they could easily just buy from the plus size section or men's area and get any sweater for the regular price. With that in mind, I came into the Tommy Hilfiger store knowing full well that I was gonna have to get creative if I wanted to come out of it with the tube top I had in mind. Of course, they had a bunch of tube tops on display, and in true designer fashion, sold them for more than $30. But I knew better than to succumb to that. I successfully ended my store visit with a $16 tube top in tow because I went straight to the lingerie section and bought from their bandeau collection. For some reason, casual-wear brands sell their intimate-wear for cheaper, and since squareneck bandeaus and tube tops look identical to each other, I opted for the less inexpensive and padded option!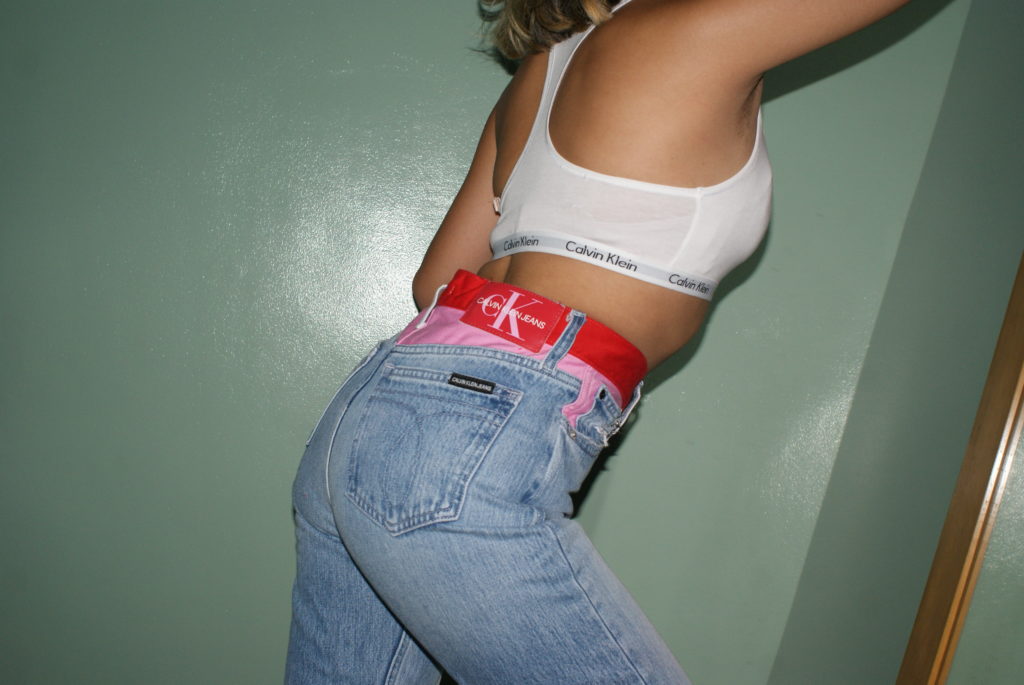 Calvin Klein Jeans
Retail Price: $120
My Price: $15 – The thing with outlet stores is that you will find a lot of outdated and off-season items in them. Don't let that deter you. Since the Philippines jumps on Western trends seasons or even years later than those in America, what's outdated in their fashion scene may be futuristic to us. I took my shopping experience in the Calvin Klein company store as an opportunity to snag something quirky. Among my purchases was this adorable pair of color-block boyfriend jeans that are designed to mimic the saggy-pants-boxers-out cliché depicted in Calvin Klein menswear. And because it came from a later collection, I got it for under $20.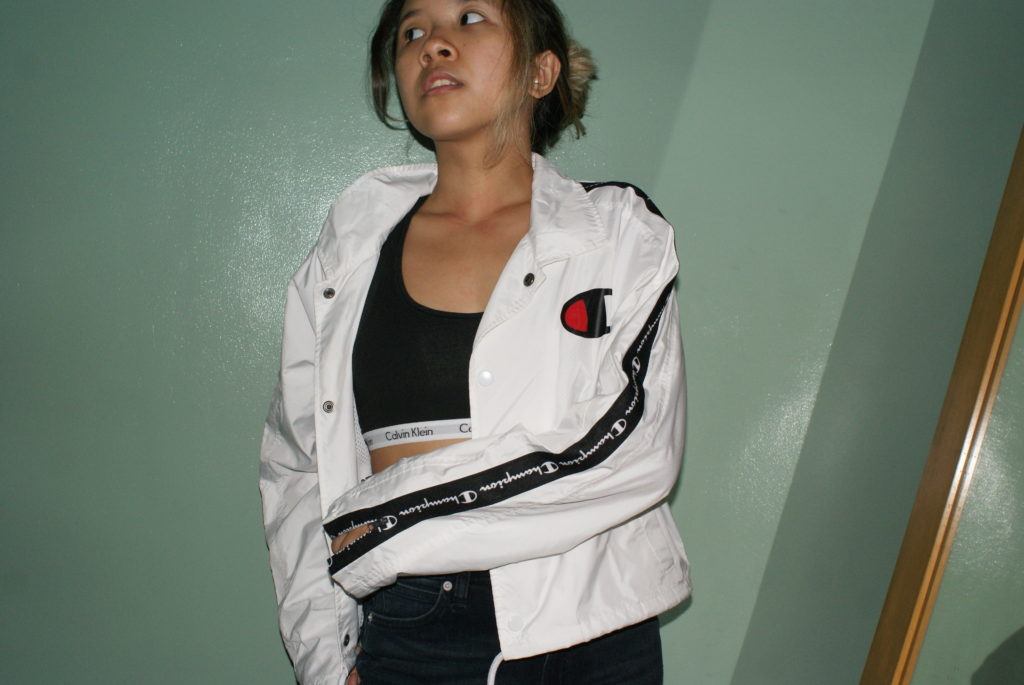 Champion Windbreaker
Retail Price: $70
My Price: $44 – Sometimes no matter how much you try to cheat the system with your awesome bargain hunting skills, you'll be faced with an item you absolutely adore and its dead-end price tag that you still find a little too costly. In these moments, I like to weight out the reality. When I spotted this windbreaker in Champion, I immediately knew I couldn't go home without it. The only problem was that I wasn't too ecstatic about it being $44. So why did I get it? When I weighed out the situation, I took into consideration the fact that my country doesn't have a physical Champion store for and all the authorized online resellers I knew of never went on sale. Although this purchase would be a splurge, I knew I was making a smart buy because this was something I for sure couldn't get back home.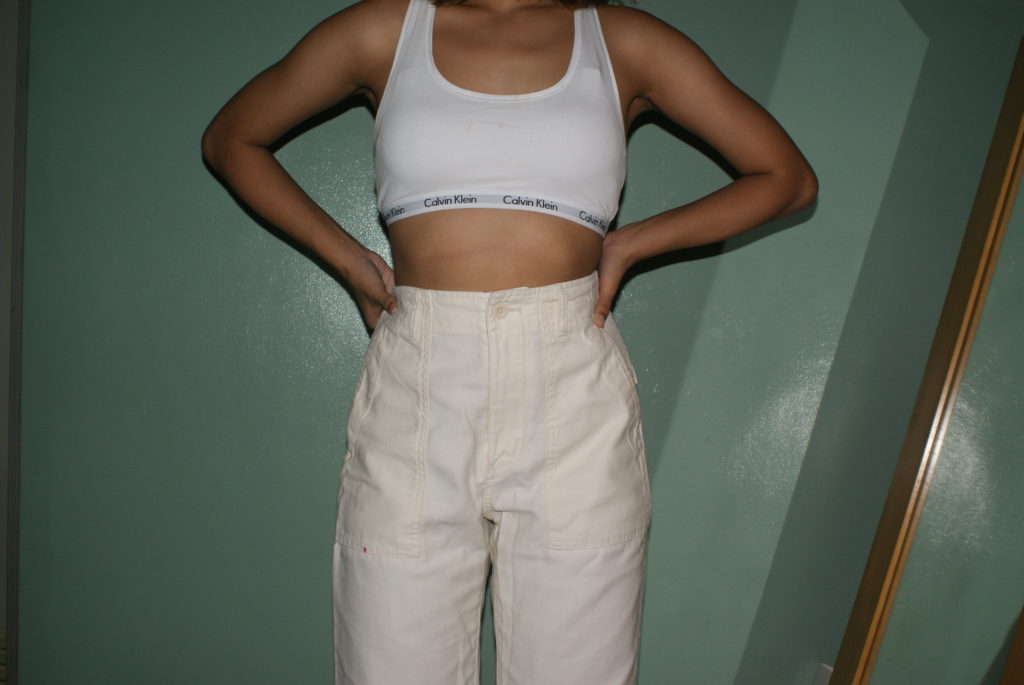 Calvin Klein Bralette
Retail Price: $28 for 1
My Price: $28 for 2 – In line with my "get resourceful" tip, I genuinely love buying bralettes and wearing them as crop tops. Of course, wearing a Calvin Klein bralette is a peak It girl choice, so I knew I wanted some for myself. As I went through my choices in Saks Off Fifth (which is the direct outlet store of the luxury department store Saks Fifth Avenue), I wasn't too pleased with the idea of spending nearly $30 on a singular bra. So this is where I topped on another tip: compromise where you can. Going through Calvin Klein's lingerie section, I found a set of 2-for-1 bralettes for $28. They looked exactly like the other bra I had picked up, except they were $13 each. I chalked it up to the fact that these didn't come with padding, but really, that was barely an issue. Since I was planning to wear it as a top anyway, I could easily add a bra underneath.
Calvin Klein High Waisted Jeans
Retail Price: $140
My Price: $24 – In the long run, classic pieces are always the most expensive. Take designer gowns for example— a sparkly mini dress by Vera Wang will pale in price comparison to a sleek Little Black Dress. Although one is more flamboyant, the other will stand the test of time. Shopping in discount stores already give you a massive price drop, so take that as an opportunity to get something from a brand's capsule (aka original) collection that'll last you for years on end. That was my philosophy behind these ultra soft black high waisted jeans I got from Calvin Klein.
---
I hope you enjoyed reading about my finds as much as I had, well, finding them! For more bargain hunting and hauls, stay tuned for next week's post— I'll be sharing with you all the rest of my purchases during the trip!