It was recently made known to me in my Philosophy class last week just how highly intelligent and progressive babies actually are.
My professor, a man who's always been fond of saying things that trigger a raised brow or two, said that babies might as well be the smartest beings out there. Since they're able to learn a whole, unfamiliar world– including complex facets of it like speaking, feeling, moving, etc.– faster than any adult could learn the basics of a foreign language, he concluded that infants are being given overwhelmingly less credit than they are undoubtedly due. It makes sense that he feels so strongly about this– he owns an orphanage, so he gets to witness the superiority of a growing newborn every single day. As for the rest of us, the concept was something we could only passively agree with, since it's been a while anyone within our direct environment did anything so remarkable that we could remember just how undisputed the spirit of the youth was. That is until, I discovered Kate.
Leilani Kate Yalung is an 18 year old award-winning fashion designer and creative director based right here in Manila. With her self-titled fashion house, Leilani Kate Yalung Manila, she creates stunning custom and RTW gowns that embody the French philosophy of parfaitement inegal or "perfectly unequal" all while drawing inspiration from our beloved country.
Up until learning about her work, I had only been exposed to designers in their late 20s and above, so I was pleasantly shocked to find out that someone within my age group was not only getting a headstart in the designing industry but already making a mark on it! At only 14 years old, Kate began her journey as a budding creative by taking Saturday workshop classes in her 2nd year of high school. From then on, things only got better. The moment she put her eye for fashion to the test by acting as a little merchandiser for the family RTW line, her mother got a glimpse of the greatness that was just beginning to bubble within her when nearly every single one of her selections captivated their clients. Later on, her completion of ourses in the country's top fashion institutes (Style Studio, SoFA, SLIMS, and ICEFDS), only helped to evolve her design ethics and skill alongside her list of accolades.
On June 2019, Kate championed the Dress-Up Barbie Competition with her Ibong Adarna-inspired creation. This put her at the center of media buzz, where her styling prowess enchanted audiences all over the metro, inevitably leaving the people clamoring for more.
And more did she definitely give.
Last November 16, Kate celebrated her 18th birthday with a runway show held in Buddah Bar Manila, right at the heart of Makati City. The moment Stef, my Colgate Coolest Crew teammate, invited me to #K8teenRunway, I knew it was an opportunity I couldn't miss. It's not everyday you get to witness an 18 year old present one gown for every year she did something way cooler than you, right? ☺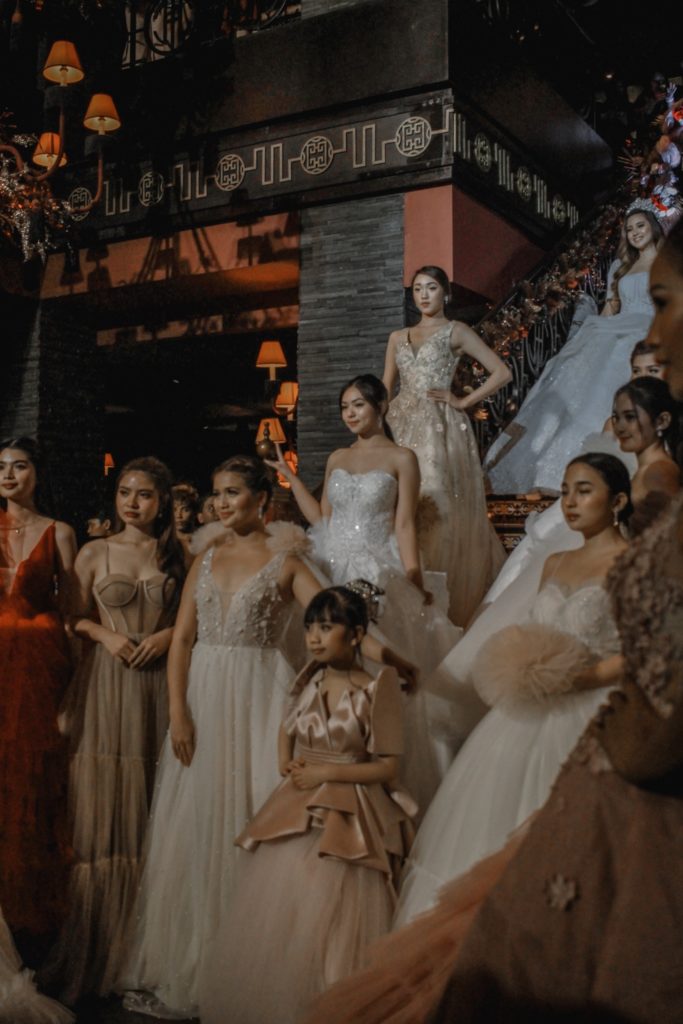 Jokes aside, #K8teenRunway was less of a show, and more of a whole experience. Kate celebrated her own debut by debuting an 18 piece collection inspired by her all-time favorite muse: the Philippine culture. Entitled Hiwaga ng mga Bulaklak, the haute couture line was set as the visual transition to the traditional 18 Roses segment. The collection was laden with stunning natural color schemes centered around white, off-white, and nude tones. To achieve that hyperfeminine and ethereal touch, tulle and organdy became the star fabrics of the show.
No doubt I was smitten with each piece, but I want to dedicate this article to my top favorites. Check them out below!
And of course, the debutant's own gowns did not disappoint either! Her first dress was straight out of a Filipiniana fairytale, with the beautiful structured butterfly sleeves and an intricately embroidered train.
Her second gown, which she donned to introduce her "Pag-Ibig sa Tinubuang Lupa" collection, was a hot red pantsuit that featured a custom painted train by local artist Carissa King. The Carabao-inspired gown is an ode to Fernando Amorsolo's female portraits, as well as the Philippine flag's primary colors.
From start to finish, Kate never failed to show her passion and dedication to her craft with the every perfectly curated thread from head to toe. I was truly in awe of her creations, and her drive to keep her art alive with every new piece rolling out.
And the best part? She's just getting started.
Which gown do you like best? 
---
For more information about Leilani Kate Yalung Manila or Kate herself, visit her Instagram and Facebook.