For someone who loves fashion as much as me, you'd think the idea of jetting off to another country with the promises of cold weather and lots of layering would excite me, but in reality, not showing skin has never been one of my strong suits.
During the Halloween weekend, my sister and I accompanied our mom on a business trip to Korea. Since this was my first time traveling during the Fall season, I felt pretty nervous about assembling an outfit that would show more fabric than skin. Coupled with the fact that I barely had time to pack, this was real challenge on my part.
Luckily, I was able to come up with three pretty fun looks I was proud of after some excessive Insta-stalking last minute research and inspo-searching.
Here's what I sported during the trip.
Day 1
Our first day in Korea was nothing short of exciting. The moment our plane landed, we were already en route to the first destination in our tour itinerary. Le Petite France was a garden theme park inspired by Antoine de Saint-Exupery's world-renowned novel, The Little Prince. I grew up going back to that book between the years, so I was really excited to jump right into the land of the characters.
Here, I decided to go for a classic Parisian look. I paired Uniqlo's white heat-tech turtleneck with my favorite plaid mini skirt from Stradivarious underneath a thick black trench coat from Zara. For that token French feel, I topped the outfit off with some thigh high boots and a black beret.
Day 2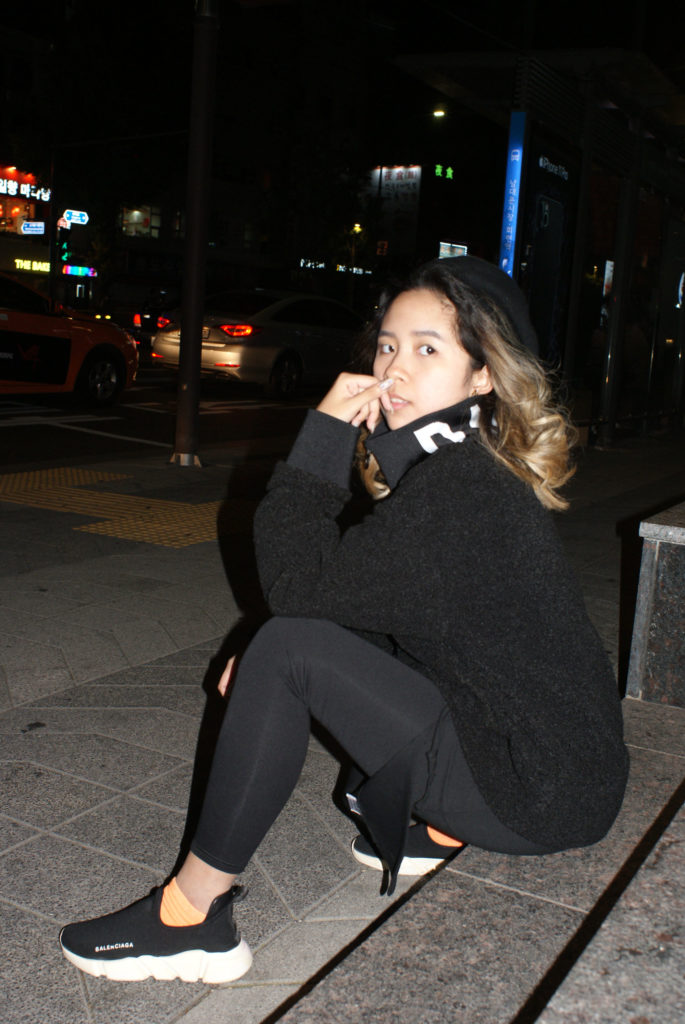 This day was particularly colder than the rest, so I knew I had to up my layer game. I busted out my oversized teddy zip-up jacket from DKNY and wore it over a long knit slit skirt from Kashieca. I really wanted to stay consistent with my all-black theme, so I matched the look with Uniqlo heat-tech leggings and Balenciaga Speed Runners. The best thing about this outfit was how incredibly comfortable it was– I felt like I was in a toasty little blanket all day!
Day 3
Of all the outfits from the trip, this was my favorite. Oversized blazers have been having their moment lately, so of course I had to snag this look for myself too! I took my Harriet coat from Neutrals & Co and matched it with my Uniqlo heat-tech leggings to create an all-black base for me to build on with accents later. For the accents themselves, I got a cream knit scarf from Old Navy, a cream beret from Lazada, and the new kicks I got during the shopping segment of the day for some nude-toned flavor.
Day 4
The art of packing light includes knowing how to repeat pieces without making the whole outfit itself look overused. As our final day of the trip, I wanted something warm enough to keep me comfortable while we did some last-minute exploring, but loose enough to help me acclimate back into Philippine weather once we arrived home. I combined my DKNY teddy zip-up with some flowy white cullotes from The Penthouse, then matched those two with my new sneakers and a hounds tooth baker boy cap from Ruby.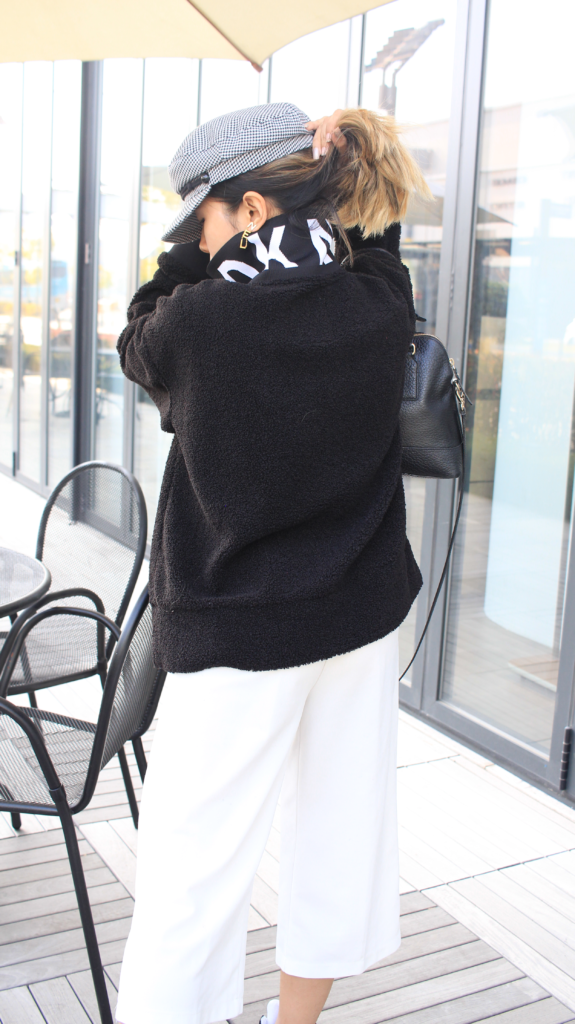 I'll admit, these aren't my best travel looks to date. I definitely had more ideas for this trip, but I guess I'll reserve for the next vacation. I'm still pretty proud of how I managed to whip these up despite the limited time I had to pack, so for anyone gearing up for a spontaneous trip, I hope you can get some inspo from these 3 fits I've rounded up.
Which look would you wear?