While some little girls may have spent their childhood dreaming of going to Disneyland and meeting Cinderella, I spent majority of my pre-pubescent years fantasizing over another kind of world where fairy godmothers whipped up, not just one, but hundreds of gorgeous attires for a few lucky ladies and gentlemen to wear and walk as royalty for a night. This mystical place was none other than the urban wonderland of a fashion show.
Last Wednesday, I attended my very first season of the Panasonic Manila Fashion Festival, and to say it was a dream come true would be to say the absolute least.
This year's motif was "Fashion Formation Decoded", featuring 10 designers on the second day whose collections spoke volumes about their style philosophy as young entrepreneurs. It was an honor to be in the presence of so many fashion moguls and style icons, especially since everyone came dressed to the tee.
What I love most about shows like this is that it's a congregation of varied fashion personas, each bringing a unique and equally amazing flavor to the table. Personally, this was the only place I felt comfortable channeling a look I've been obsessing over for a while now since the advent of 90s revival.
The Fendi logomania.
It's no secret that brand recall has been far from subtle in the last few seasons, with international labels bringing back the overt logo repetition pattern. While this ostentatious display may not sit well with others in an everyday setting, it was not only accepted but well received and en vogue in this event! A representative from Zilingo– the newest online clothing marketplace which sponsored the show– approached me for a feature, which I ecstatically accepted.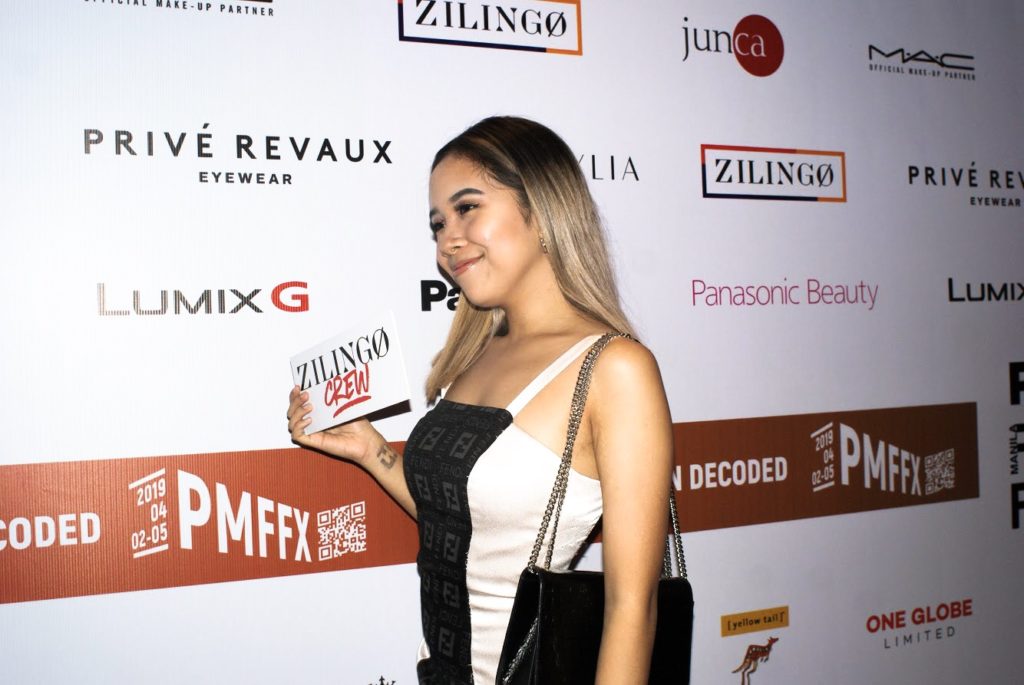 For the rest of my look, I'm also donning a new pair of shoes that I waited months to finally get my hands on (or feet in, specifically). This sleek sock boot pair from Sam Edelman's Circus line did wonders for elongating my legs and matching the monochrome and silver scheme of my look. The classic YSL purse I used also locked all the metallic tones in place with its own silver accents.
But in my opinion, what made this look one of my favorites that I've ever done had less to do with clothes, and more to do with my do. In my humble opinion, the straight and sleek hairstyle I donned for the evening perfectly encapsulated the "high fashion red carpet" vibe I've always adored and tried to recreate.
As for the show itself, you can probably imagine that I was chanting "Oh my God" at nearly every design almost every 5 minutes. Particularly, I found that Kaye Morales' collection completely stole the show, especially since the music her models walked to was a powerful full-bass instrumental track that just sounded like the epitome of woman empowerment.
My other favorite was Reenan Pacson' edgy tribal-meets-urban line. I loved how all the looks were very haute couture, but each model bore a distinctly native accessory that seamlessly juxtaposed modern and traditional elements.
The night might have already been full of glitz and glamour, but it still wouldn't have been complete without my amazing best friend, Nina, who agreed to be my plus one for the show. I have her to thank for all the stellar OOTD photos and red carpet shots.
Congratulations to Panasonic for yet another successful season of setting the stage for young designers to share their work to the community. If they've already given a platform for so much diversity in the fashion industry on just their 10th season, I can only imagine what other revolutionary ideas they have in store next time.