Last October 12, the BENCH team invited their partner social media creators to the launch of The Faceshop's product seed line. The event, held at the center of the Atrium in SM Megamall, was set to celebrate the new range of serums spanning from Chia Seed, Green Natural Seed, Mango Seed, to the Energy Seed.
Upon arrival, I was pleasantly surprised to discover that the BENCH team had prepared an adorable K-wonderland for us guests. Long tables were positioned in the middle of the venue, where little labels featuring our Instagram handles served as our tablecards.
Since I had arrived about an hour early, I decided to take advantage of the many booths that they had put up.
First, I got my hair done in their BENCH FIX pop-up. The hairstylist agreed to straighten my hair, and we had a fun little chat on how I felt about my hair color. She told me that she assumed I was bored with my dye, because only customers who are growing their old color out tend to get their hair straightened. Yes, ate, right on target haha!
Next, I got my brows done at their The Faceshop booth. I already religiously use their Designing Eyebrow Pencil, so it was cool having the brand's representative try another color on me. I normally wouldn't get my brows done as thick as this, but it was a welcomed new experience!
Once the guests started pouring in, I decided to settle down in my table and meet the rest of the guests. It was a great experience making so many new friends that day, especially since we all came from different media backgrounds with different content styles. All together, we spent the rest of the afternoon chatting away as The Faceshop and Bench team put together some fun activities for us.
Since this was the launch of their product seed lines, we were given our own pots, mini fertilizer kits, and seeds to plant on our own. The first step was to paint our pots, so I went from attempting some Matisse line art, to blobbing colors together in an "abstract" form.
I'm definitely not too nifty with a brush, but that's okay– it's the effort that counts!
The final step was to actually insert the seed into our fertilizer, and since that just meant popping out the capsule in came in over the pot, I miraculously did that without messing up.
Now, what did stimulating our green thumb for a day have to do with some skincare products?
Well, The Faceshop has always valued its strong relationship with the environment. By allowing us to be one with seeds similar to the ones that star their newest collection, we got a glimpse at just how important their connection to all things organic was.
After the event, the team so kindly gifted us with a bundle of some of their featured products. The Energy Seed Advanced Antioxidant Hydro Serum includes Chia Seed, Mango Seed, and Oat to formulate the antioxidant character. With its watery consistency, it is said to smooth out the skin, as well as moisturize. This is supposed to be the very first step of your skincare routine, because it claims to help making layering your products effective with its advanced absorption. It also comes in a cream and lotion form for those who are opting for different mediums. Additionally the kit also contained the Green Natural Seed Advanced Antioxidant Toner claims to lessen skin stress with the green nature formula. For those with dry, rough, and parched skin, the anti-oxidant oats and tocopherol provide you with healthy elasticity.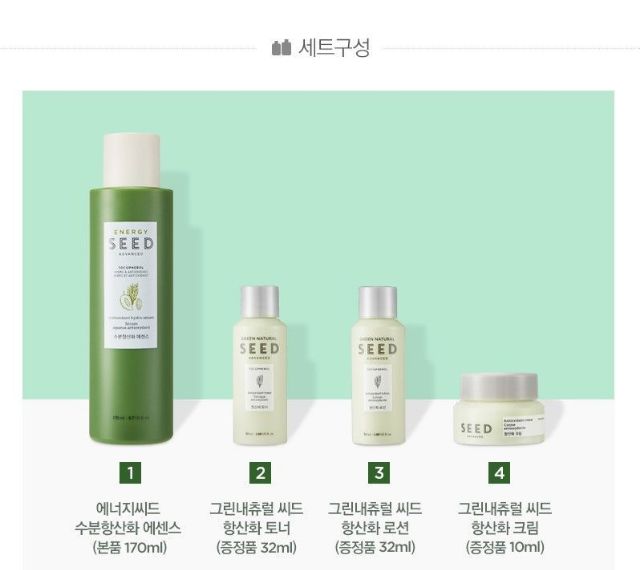 Aside from this, they also gave us a box of their Ink Lasting Foundation. This product's claim to fame is its second skin feature which removes cakey or thick application, all the while giving you full coverage. All 5 shades have SPF30 PA+++ infused, as well as moisturizing and glow technology. I got to test out 3 shades which correspond to the light skin tones: Natural Bright, Natural Medium, and Bright Medium. After swatching them, something I definitely want to note is that the line could use more exclusivity. The range is very limited and does not account for darker skin tones, but I suppose this wasn't completely unexpected since The Faceshop does cater to Korean users. Nonetheless, fair-skinned individuals will appreciate the color-correct yellow undertones that the shades carry. I definitely felt most comfortable with the Natural Medium, but I still think it needs to be mixed with either a darker foundation or a lot of bronzer. On a more positive note, I loved how weightless the formula was; I would classify it more on the watery side, so the slip went on like a toner.