Nothing is ever in its final form— that's my mantra when it comes to anything related to clothes. With a few snips here and there, a boring shirt can be transformed into a dupe for that trendy top you've been seeing all over Instagram. Personally, I'm a huge fan of drawing outfit inspo from celebrity street style looks and Pinterest boards, so I'm always searching for ways to give my hundred-peso clothes that thousand-peso remake.


When I went thrifting for the first time a month back (which you can read all about here), I picked up some pieces with the intention of putting my own twist on them later on. Every time I see expensive showstopper clothes, I always analyze its structure and make a mental note to recreate it myself for a more affordable price. Call it ambitious, but hey, I'm a girl who knows what she wants.

Thrift Flip #1


For the first thrift flip, I knew as soon as I entered the ukay that I wanted to get something similar to this tiny buttoned crop top Bella Hadid wore on her day off.

This grey Ralph Lauren top I found was the perfect candidate, with its identical neckline and snug fit.


The Process

How I altered it is a pretty much a no-brainer, but I'll walk you through the steps anyway for depth.

1. Lay the top on a flat surface. Use the buttons to locate how much fabric you'll be removing. I wanted my crop to be just below my chest, so the button on the 6th row was my marker.


2. Cut it. Better to cut too much than too little. You can clean up any uneven snips by hemming it later on.


3. And voila! Not too shabby, if I do say so myself! I think Bella would be proud.



Okay, I'll be the first to admit that that tutorial was so easy it's almost ridiculous that I even had to explain it. If you prefer a challenge, well, here's the fun part.

Thrift Flip #2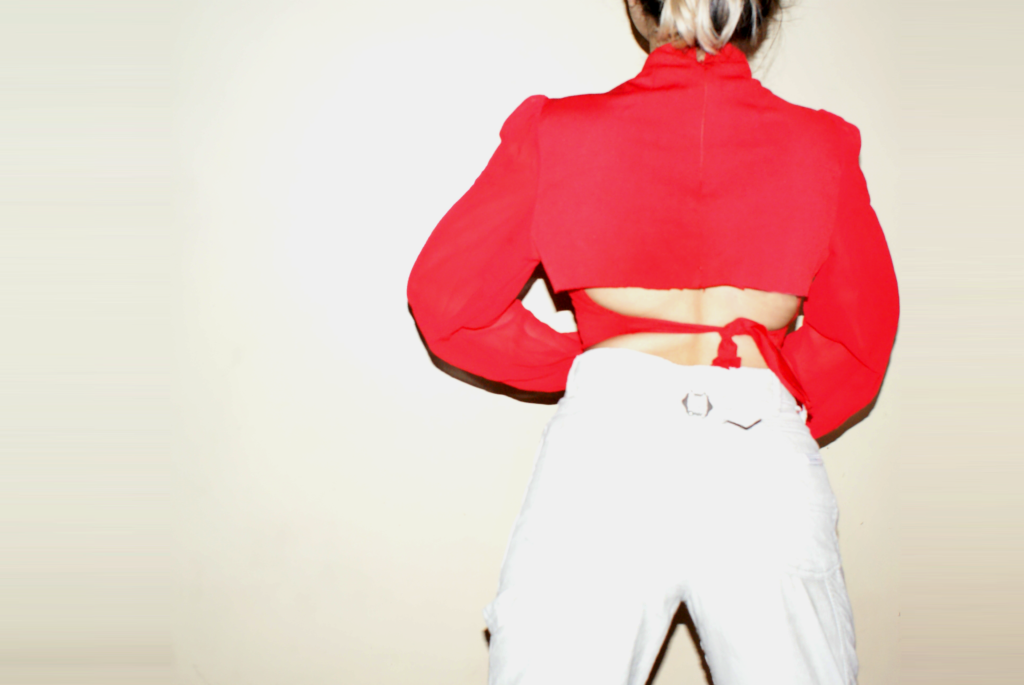 Of all the tops I've been dreaming about, there is one particular blouse that's captured my heart since I first laid my eyes on it. Orseund Iris is one of my favorite new designers, and I have found my clothing soulmate in their top. This gorgeous silk blouse has puffy long sleeves that cinch at the wrist, giving it an instantly dramatic and elegant flare. But the real scene-stealer is that stunning backless detail kept together by the a little bow. I could cry of happiness just looking at it, honestly.

But with a hefty price tag, I knew I'd have to get creative if I wanted to sport anything even similar to this.

After browsing the racks of Fleur De Lis for a good 20 minutes, I discovered this gorgeous red turtleneck with mesh sleeves identical to that of Orseund Iris'. Pure luck? I call it divine intervention.


The Process

1. Lay the top on its front, so that its backside is exposed.


2. Determine how much fabric you want to cut off to turn it into a crop top. I wanted this to stop at my torso, so I eyeballed the material and folded where I felt like my torso would be.


3. Cut it. You should have a semi-crop top by now.


4. If your turtleneck has a zipper at the top like mine, lay the top inside-out to determine where the zipper strip ends.


5. Flip it back to normal. Cut a small slit/hole around 3-5 inches beneath where your zipper strip stops. The end of your zipper to this slit defines how much of your back will be exposed. I didn't want my whole back to show, so I left some fabric. (If you prefer to keep things more risque, then definitely cut off as much as you want to expose and go straight to step 7!) I pinched my fabric with my scissors to do this.


6. Use that slit/hole to cut a horizontal line through the fabric.
7. Remove the whole first division.


8. With the second division, cut the rectangle down the middle. Now you have two ends of fabric to tie a ribbon.


9. Your top has officially been revamped! 

I might have not been able to get that full backless look because of the zipper strip, but I'm obsessed over my recreation regardless! I adore how it turned out and the Orseund Iris shaped gap in my heart has been filled with only a P50 blouse. How amazing is that?

I hoped you enjoyed my little thrift flip just as much as I enjoyed doing them. I'd love to do more of these in the future, so if you like what you see, don't hesitate to shoot me a message for any other clothes revamping you have in mind!