Photography, Make-up, Styling, Post-Processing, and Art Direction by Frances Beltran | Modeling by Anicia Guanlao, Jessica Tambunting, Psyche Villanueva
In honor of International Women's Day, I want to dedicate this blog post to all the ladies around the world who have faced the imposition of societal pressures, especially in terms of being expected to adhere to what is traditionally attractive.
No matter what anyone says, there is no singular mold that a person needs to fill in order to look beautiful. Everyone deserves to feel comfortable in their own skin, and as a female who is fortunate enough to have a platform to speak, I see it as my responsibility to be a voice for those whose fear of going against the current has stifled their own.
What I've always loved about fashion is the personalized experience that comes with finding those key outfits that flatter your body distinctively. To me, there is no "one size fits all" when it comes to style. Depending on your body type, there are certain ways you can accentuate your best features through the clothes you choose.
There is no need to shrink yourself– physically and mentally– just to fit into a certain look: Styling makes it possible for you to define your own best parts, and empower yourself through doing so. And today, that is what I'd like to do for three certain figures.
As a disclaimer, I do need to point out that I am by no means an expert on this topic. Everything I've learned, I 've acquired through years of observation and leisurely browsing articles online.
Triangle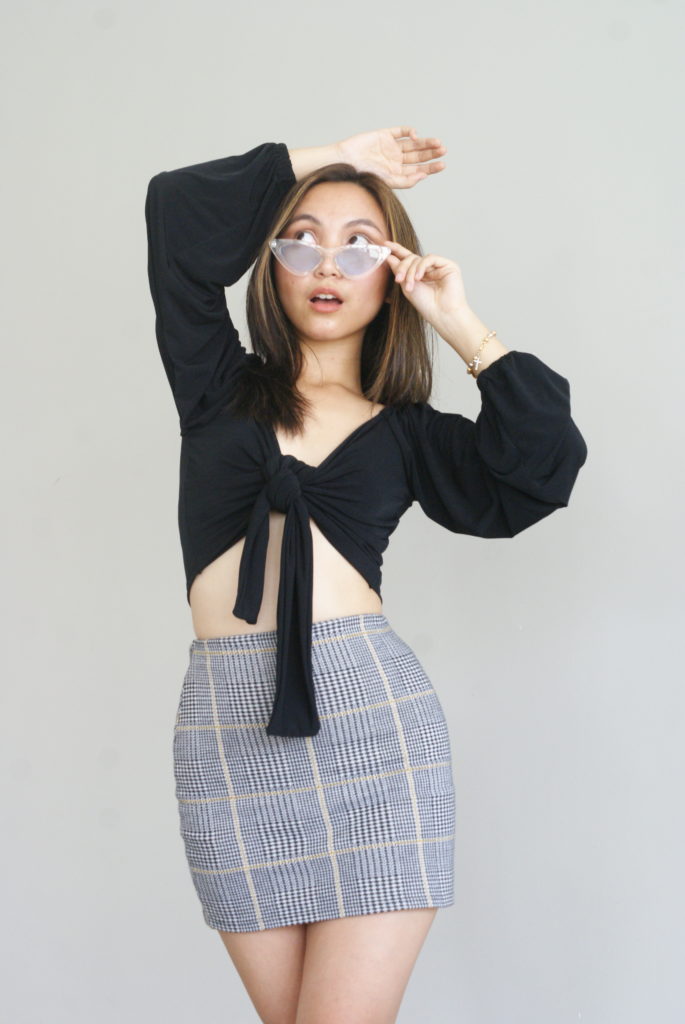 Features: narrow shoulders, wide hips/large bottom
Advice: Since your curves are in your lower half, it's best to balance out your proportions by choosing clothes that both define your waist and add more "meat" to your top half. This shape is the closest to the hourglass figure– which is considered an ideal– therefore all you have to do is mimic the curves present in the upper half.
Best tops: Things that add a more visual dimension to bring attention to the narrowest part of your body. Ex. ruffle tops, wrap tops, patterned tops, busy prints, and layered tops.
Best bottoms: Things that accentuate your curves. Ex. Pencil skirts, A-line skirts, and trousers.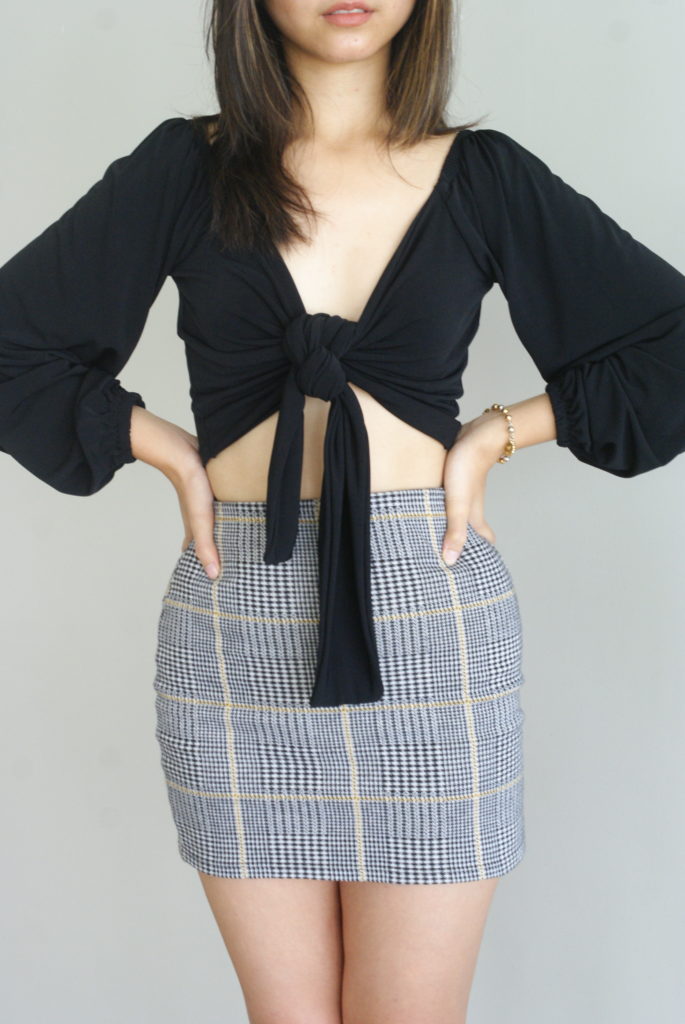 Inverted Triangle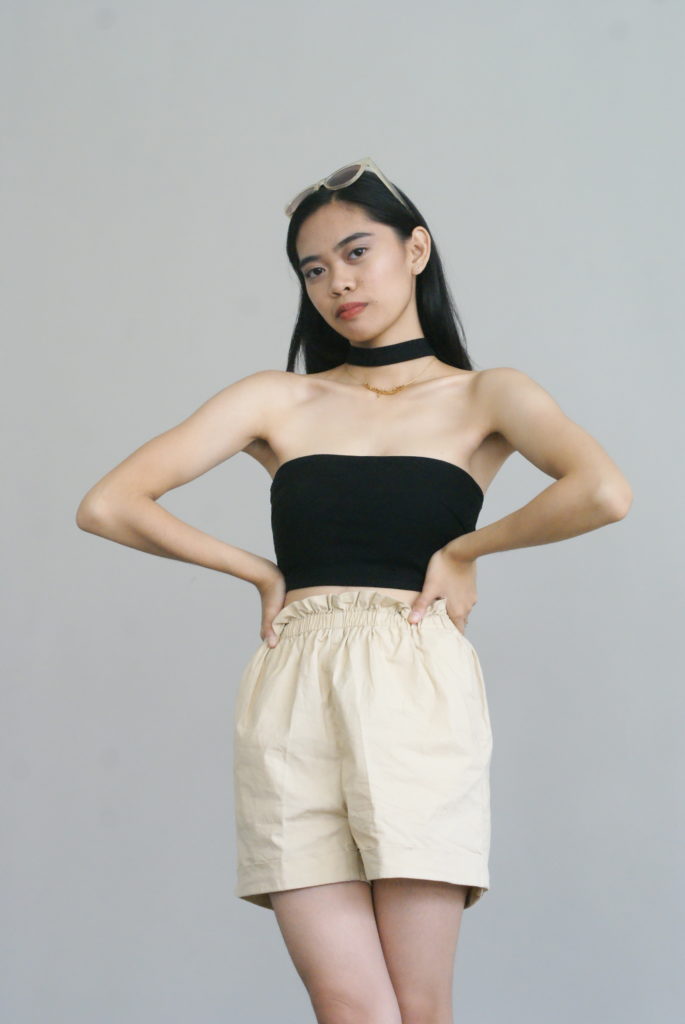 Features: Large bust, broad shoulders, narrow hips, small waist
Advice: Keep your top half uncluttered, as the natural form of it already gives you a more visual dynamic. Add volume to your body to keep things proportionate.
Best tops: Things that accentuate your shoulders, collarbones, and (if you're into that) cleavage. Ex. Off-shoulder tops, tube tops, v-necks shirts, scoop neck shirts, and straight neck blouses.
Best bottoms: Things that add "meat" to your lower half while cinching your waist. Ex. Paperbag shorts, straight cut trousers, skater skirts, flowy shorts, joggers, and culottes.
Rectangle
Features: No defined waist, shoulders and hips are proportionate, no curves, small bust and bottom
Advice: Your lack of curves means that the best way to accentuate your body is by "creating" curves of your own. Choose clothes that inspire movement on both your top and lower half. You can create the illusion of a defined waist by opting for pieces that tighten that area. Luckily, this is the most versatile body type to style.
Best tops: Things that give the illusion of shape. Ex. Loose blouses, flowy tops, sweetheart-cut tops, horizontally striped sweaters, collared jackets, and padded blazers.
Best bottoms: Things that create definition or visual impact. Ex. Pegged skirts, wrap skirts, ruched skirts, layered skirts, cowl skirts, flare jeans, skinny jeans, and boyfriend jeans
At the end of the day, these are all just tips on how the fashion industry likes to create universally flattering attires depending on one's body shape. But this is not the Gospel truth– if you feel comfortable wearing clothes suggested for a different figure, then go right ahead!
Ultimately, fashion is about expression and you will always look good in the clothes wherein your expression shines best.
NOTE: Do not confuse your weight for your body type. If you identify as someone on the slimmer side, it does not mean you are automatically a rectangle. Alternatively, if you identify more on the curvier side, it does not automatically mean you are an oval. Pay attention to your bust, shoulders, waist, hips, and bottom to identify your true figure.
NOTE #2: Due to my lack of available models, I was unable to include someone representative of the oval shape. But don't worry, I'll be coming up with a blog post dedicated to styling the oval shape soon.