You know that saying "you never realize what you have until its gone"? That's been the tagline of my week so far.


As a content creator, I run my business through social media platforms. In specific, Instagram has been my main medium for the last 3 or so years ever since I started taking my blogging career from personal to business. After consistent care to my account @frances.beltran, I managed to build a growing following of more than 7,000 people, real connections with my blogger community, and multiple trusted brand partnerships. I meet and form bonds with my clients and audience through my account, and for that reason, Instagram is a direct life source for Haute Headed.

With that being said, you can probably imagine the utter shock I felt when I discovered my account had been disabled out of the blue one afternoon.

There aren't enough words to describe the mirage of emotions that passed through me the moment I saw that dreaded pop-up box. Fear, confusion, anxiety, disappointment— you name it, I was radiating it.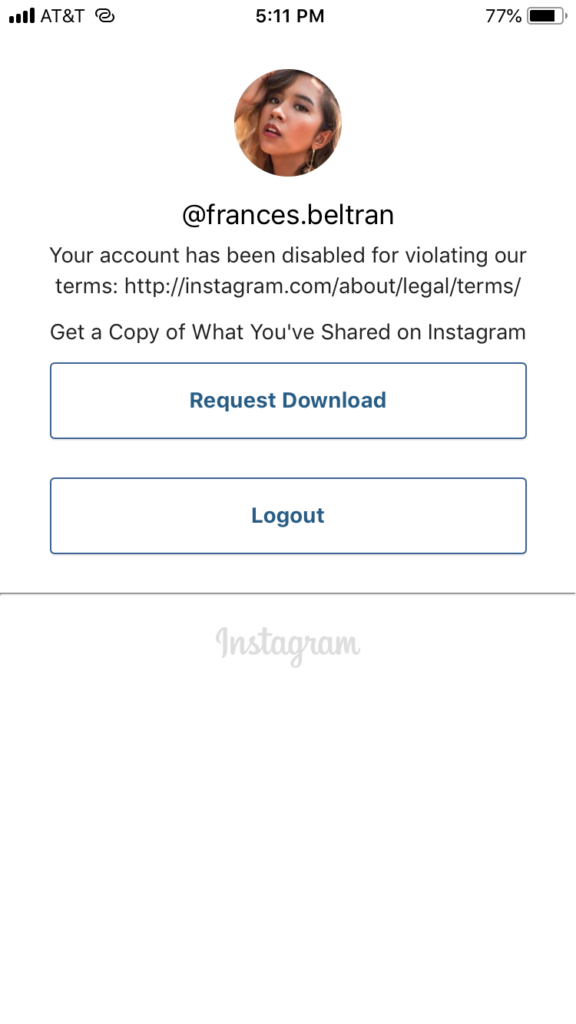 Immediately, I sought to find out why Instagram would do such a thing, so I pushed to "Learn More".


I was redirected to another pop up page, that, although provided more information to what had happened, but also increased my level of sheer confusion. How could I be "pretending to be someone else" if I was just posting as me the whole time?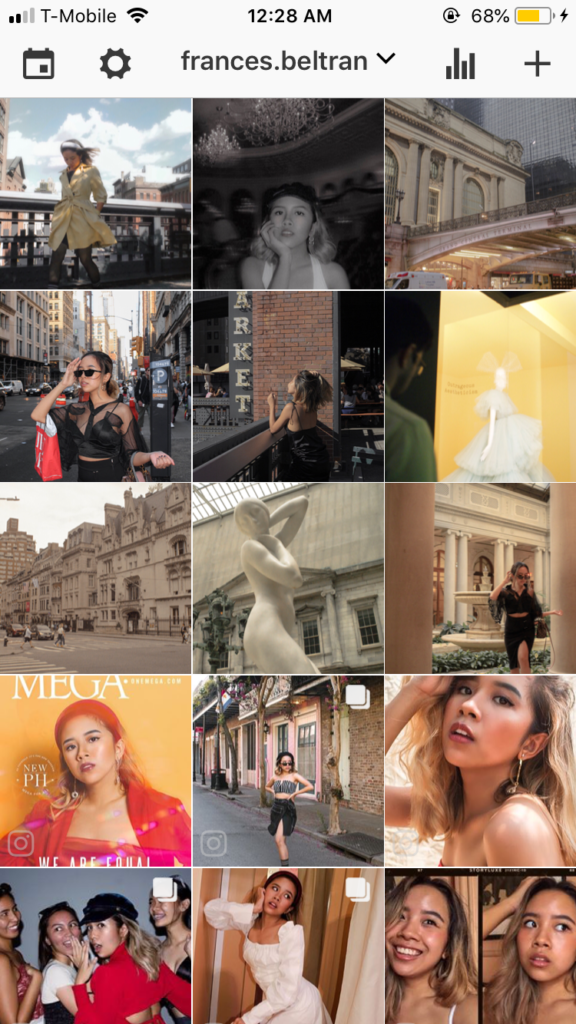 I then remembered that just recently, my sister— @aikabeltran— informed me that a now-deleted account by the name Müzeyyen Karaman (@muzeyyenkaraman34) had been stealing my photos, bio, profile picture and geotags and reposting them in an eerie replication of my account. I blocked and reported them for impersonation, as well as instructed my followers to report them on my Instagram Story within the same night, only to be reported back for the same reason the next day.

The craziest part was that I was able to see that at least for 24 more hours, that impostor account still remained on the platform.

I instantly took to action and began the long-winded mission of filing report after report in hopes of getting customer support's attention. Prior to this issue, I had never needed to contact Instagram for assistance, so I still trusted that I would get my account back immediately, since I was obviously innocent.

But boy, was I wrong.

Initially, I filed around 1 or 2 reports through the app's built-in form. While waiting for a response, I did some research to find out how other people's experiences went with Instagram's customer support and false disabling. If I had started this journey with confidence, I was now falling into a blackhole of hopelessness.

Digging deeper and deeper into the web, I discovered that it seemed nearly impossible to get into contact with Instagram after they wrongly disable your account. People had tried the conventional methods (filing reports), and while some receive replies nearly a week or even months later, some never do at all. Not to mention those who did receive responses, but had their appeals declined by Instagram with no explanation.

I read horror story after horror story on community pages, chatrooms, and threads alike from jaded ex-Instagram users who lost accounts with over 100,000 followers and never got it back despite filing multiple results. At this point, you're probably wondering if people experience this rejection solely through email or on call. Here's the kicker: Everyone only interacts with Instagram's automated email, because they purposely do not have a human customer service platform available. No person-to-person contact whatsoever. 
Some people were able to bypass the poor customer service system by reporting their account as hacked (thus getting a faster response from the team) or using their Facebook Ads account to get in touch with a live agent to discuss their problem with. But these methods are now outdated and no longer yield any effective results.

In a surge of desperation, I spent one day filing around 25 reports from 3 different email accounts, hoping to get across to a real person behind customer support who would take my case seriously and not just distract me with bot replies. I received two emails back, but of course, these were just automated responses. I sent in all the required info to no avail.


2 days later, I called the only 2 numbers that showed up on Google in relation to Instagram's phone hotline. The first number I called was a total scam (which you can read about here), and the second one was yet another automated helpline that directed me back to the website.



As of now, I have completely lost hope. I'm wildly disappointed and disheartened by this situation, not to mention incredibly heartbroken. I trusted Instagram to be a reliable and secure place for me to link my business to, but was sadly let down. I provided all necessary information to their support channels to prove that I was the rightful owner of my content, but have received no assistance back.

I even reported this case under their Exposed Privacy form, but received a cold, washing-my-hands-off-this reaction after they told me the account was already deleted and I insisted that as long as Instagram sides with the false report and keeps my account disabled, my business and identity is still at risk from being further manipulated by that impostor.


Now, all I can do is endure this nerve-racking waiting phase. 


Update: As of today, July 2, I have officially gotten my account restored.