You are what you eat I suppose.
A few weeks ago, I was scrolling on Facebook when my friend, Joachim, tagged me under this meme.
"I dare you" he wrote (semi) jokingly.
Surprisingly enough, I was actually pretty intrigued by the design in a non-sarcastic way. Although that criss-cross side lacing isn't quite my taste, I would definitely say the overall flour/rice/sugar bag trend is my cup of tea.
In perhaps the most eyebrow-raising trend I've seen in casualwear today, designers from all over the globe have given the famous "you are what you eat" saying a stylistic spin.
I'll admit, what draws me to this trend isn't really that I find it classy or anyway sophisticated. I find it deliciously ridiculous, absolutely fun, and just a tad bit campy but in the best possible way. A quick search on Google will tell you that many internet trolls have taken to niche forums to poke fun at the trend.
But of course, fashion has always been interlaced with history, and it's important to know why these unique trends surfaced in the first place. So let's take a quick trip down memory lane shall we?
During the Great Depression, Americans found themselves financially disabled by the severe Wall Street Crash. Many struggling families were forced even lower under the poverty line, and could no longer afford both basic necessities and comfort. With this, people began using the feedsacks that came with their flour and rice purchases to dress themselves. Almost instantly, the demand for this cheap and readily available fabric increased, and sack companies quickly responded to it by creating more design and size variations to accommodate different body types. This only became more widespread in World War II when manufacturers had to ration their textiles for war efforts, and the US government encouraged the recycling of sacks for the womenswear instead. This was especially prominent within rural communities and farmlands.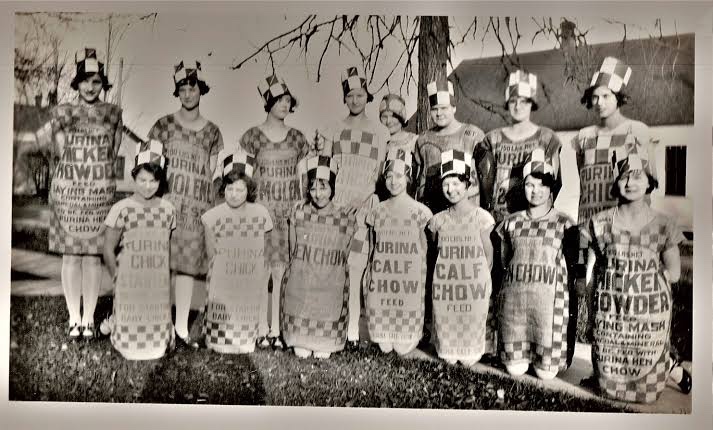 By the 1950s, the burlap sack had found its way to commercial fashion, with Marilyn Monroe famously posing clad only in a potato sack dress herself. It's also important to note that there was an element of shame people used to carry in wearing these sacks. These would come with washable labels to remove proof of its food packaging nature, as many saw this as a mark of poverty.
Today, designers are taking either actual vintage food sacks or fabrics inspired by this design and repurposing it to create RTW pieces.
Although this trend has long since found its way to the runway, let's take a look at how it's been redesigned for casualwear lately.
3 Women Co
3 Women Co is a female-owned vintage clothing store rooted in eco-friendly fashion. They primarily design pieces with vintage feed sacks as the core of their sustainability effort.
And Again Clothing
And Again Clothing is a local clothing brand that upcycles flour sacks and fabric waste to create made-to-order kimonos and button-downs.
Bode
Bode is a luxury menswear brand that brings to light their sentimentality for the past through modernizing historic techniques. They carry a collection of antique textiles that put storytelling at the forefront of their creative image.
Antonina
Antonina Amoncio is local fashion designer whose runway collections I've had the privilege of watching twice. In 2018, she presented her Para Sa'yo collection for the prestigious Bench Fashion Week, featuring a wheat flour sack puffer jacket.
The Library
The Library is a local vintage shop that holds a carefully curated collection of high-end jewelry from global markets, thrift shops, and private donors. Taking on a slightly different approach, their limited edition Denim Study jeans are upcycled and hand-painted with vintage matchbox inspired prints. Although they don't strictly follow the feedsack trend, their work does fall under the repurposed vintage parcels category.
Would you wear a feedsack outfit?