As someone that was born and raised in Manila, I never had the concept of "going back home for the holidays". Home was here in the city– home was where I experienced daily life and celebrated the big events. But this year, my family decided to take a trip to my dad's province, Bukidnon, for a week in December. My last visit there was 2 whole years ago, so I was equal parts excited and nervous to return. What if we didn't fit in? What if I didn't enjoy? Had I outgrown the allure of provincial life that I was so enamored by before?

All my questions were to be answered in a span of 6 days.
Day 1
Landing in the Laguindingan Airport at 4:30, we were granted a few minutes of stretching and breathing in the fresh Cagayan de Oro air before we piled ourselves and our luggage into the van our grandmother had sent for us. We still had around a hundred kilometers ahead of us before we could reach our dad's childhood home, so I tried to settle into my spot in the backseat as comfortably as I could. Unfortunately, the roads leading to Bukidnon were winding in an upwards slope, so I felt that familiar sensation of carsickness creeping up on me the further we went. Luckily, after much controlled breathing and attempted naps to distract myself, we finally found ourselves pulling into the familiar driveway of our grandmother's house in Malaybalay.
Longing hugs and pleasantries were exchanged with each member of our extended family. Our grandmother greeted us the exact way every grandparent welcomes a child that's been away for too long– with a hearty meal. We settled in for a pre-Noche Buena meal where the resident cooks served us their best homemade recipes. In all honesty, I've never been one for the Filipino cuisine, but I always find myself enjoying the local dishes served around here.
Once small talk had reached all four corners of the table, my family and I retreated into the van for one last car ride– this time, to our hotel. I'll be blunt: In our last two visits to Malaybalay, I always had mixed feelings about our accommodation. The last place we stayed in was much different from what I was used to back home, so I never quite enjoyed my lodging experiences.
Well, that is until we entered our choice of residence for this trip.
Driving down a private road in the Sayre Highway, the narrow pathway expanded towards a large, brightly lit, cabin-esque estate. This picture barely does the exterior justice, but just from the looks of it, you can tell that it mirrored a beautiful log cabin sitting atop a ski resort in the Alps. Minus the mind numbing snow and plus the large trees, Loiza's Suites was a peaceful sight amidst a long day of bumpy traveling.
Upon entering the quiet lobby, I was pleasantly surprised to discover that the interiors exhibited the same kind of sophisticated architecture I'd see in a high end resort in the city. I had always known Bukidnon to embody that "magnificent forest" effect, especially with the grand mountains overlooking the roads and tall trees lining every nook and cranny, so Loiza's was a perfect match to the imagery I recognized the province to have.
Admittedly, we had a bit of trouble with the front desk when we arrived because our pencil reservation wasn't appearing in their records. My mom explained that we had come all the way from Manila and had no other place to go. At that point, I was beginning to lose hope– it was Christmas Eve and majority of the staff had gone home for the holidays. Since they weren't expecting us, no rooms had been prepared and only a few employees were present that night to assist us.
Now here's the most interesting part: When any other hotel might have just shot out apology after apology before eventually leaving us to fend for ourselves, their receptionist (Che Che) took matters into her own hands and personally cleaned out one of their family suites for us. We were shocked– now that's what you call good service!
(Another interesting thing I noticed was that there was only one security guard on duty that evening to assist us with our luggage. Not only was he incredibly warm and welcoming, he single-handedly lifted each of our suitcases up 3 flights of stairs since they didn't have an elevator!)
Grateful for Che Che's initiative and dedication, we settled down in our 5-person room until it was time for Noche Buena. (EDIT: A few days later, we were moved to their Deluxe Suite, as pictured.)
My dad had mentioned to us during this restful waiting period that time moves inexplicably slowly in Bukidnon. Actions that would usually take 2 hours in Manila– like, say, eating breakfast and chatting with the family post-meal– take half the amount here. We experienced that first hand when a 3 hour gap between our stop at Loiza's to returning to our grandmother's place felt more like a 5 hour break.
When the clock hit 11, we made our way back to the house for a hearty Noche Buena feast. The cooks had prepared local delicacies, while our aunts and uncles brought dishes of all sorts from outside. Like any classic Filipino party, the exchange of gifts followed our dinner, turning the house into a factory of discarded gift wrapper and an abundance of toys.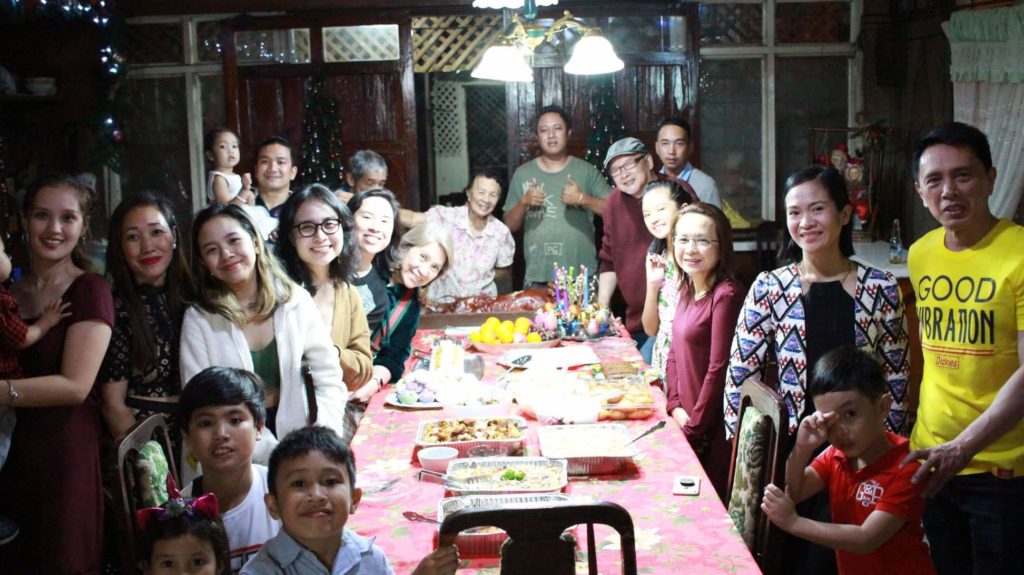 Christmas back in Manila has always been relatively quiet, given that we usually just celebrated with us 5. It was definitely a heartwarming sensation to excitedly unwrap presents surrounded by so many family members. 
The adults spent the rest of the evening chatting the night away, while the kids went from eagerly running around with their new toys to winding down for bed. My sisters and I might have not known where to place ourselves amidst all the wonderful chaos, but we were content observing from our seats in the couch.
Oh what a beautiful feeling it is to be in a room that radiates of generations of love.
Day 2
Christmas day began with a visit to the Barroso compound right across our grandmother's house. We aren't too familiar with the folks over in that side of my dad's clan, but I've always been intrigued by the amount of people we'd meet every reunion.
Today, we were greeted with yet another full house of bubbly relatives ready to pass on the Christmas spirit. Immediately our grandmother met us at the porch, ushering us to the dining area where a long table of classic dishes waited patiently for our selection. After we had exchanged greetings with familiar and new faces, we took to our meals for a good start to the day.
Just like yesterday, it was great being around so many family members who didn't even hesitate to treat us like locals of the area. Sitting there in the compound, I watched in awe as our relatives filled the room with endless conversations while the children ran past us, chasing each other for whatever reason children chase. I know that this may seem like a normal Christmas scene, but I couldn't help but be filled with overwhelming gratefulness for the feeling of belonging that being around all these people stimulated.
When the festivities began simmering down, we took an impromptu trip to the Kaamulan Forest Park with our grandmother and niece, Sam, riding closely behind us. Kaamulan is a 500-hectare foliage sanctuary in the heart of Malaybalay. There aren't enough words in the world to describe how absolutely breathtaking the place was. As we drove up the hill, I marveled at the towering trees that lined the landscape. As if it were straight out of a postcard, I fell in love with the way nature seemed to bloom at its peak here.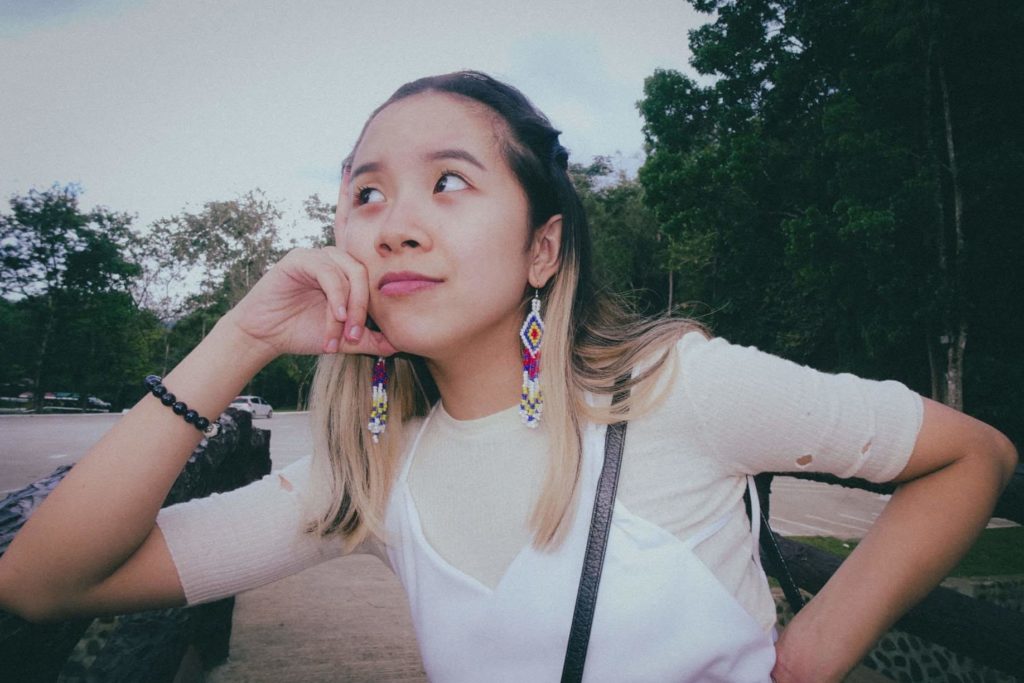 This was truly a far cry from the Kaamulan that we first visited 2 years ago. Back then, the numerous bald spots of land made it an underwhelming sight. This time around, I could barely take my eyes off it.
Our next destination was a quick stop to the local Gaisano shopping mall. Unfortunately, we didn't get to stay for long, but from what I saw through my quick browsing, their collections are comparable to that of the city's Robinson's Department Store, so this is definitely a place to check out for anyone interested in modern Davao-based fashion brands.
Dinner time was spent back in the Barroso compound where we feasted on the remaining dishes from earlier. Most of the guests had left at this point, but it was still nice enjoying their homemade recipes while letting the evening breeze take over us.
The long day of activities had eventually caught up on our energy, so a few hours later, we said our goodbyes and headed back to the hotel to end the night.
A day full of family and food– that's all you can ever hope for in life.
Day 3
Dahilayan Adventure Park is a grand multi-facility resort with a large variety of rides and activities, all within a picturesque landscape. We had gone here during our previous visit, so we knew that it deserved one full day to itself. We started off by leaving bright and early for Valencia City. Once we arrived, we had a scrumptious lunch in the hotel lobby's restaurant to fuel us for the day's activities. A mini pictorial ensued in their garden, where my sisters took the opportunity to get their new profile pictures. The family also had a few photos together.
Now, for the fun part. Sadly, I didn't get to document any of the rides since they don't recommend bringing cameras, but we did get a couple of shots in the photo-op checkpoints.
Our first ride was the buggy. Ate Bearose and I shared one vehicle, while Ate Aika trailed close by us. I didn't know how to operate it, so I was left to watch the view in the passenger seat as we followed the guided trail. The whole ride, I couldn't help but imagine I was in the middle of Jurassic Park.
The dirt road, looming trees, and bumpy slopes reminded me of a dangerous journey one would take while trying to escape a pack off rabid dinosaurs. So in short, I was equal parts terrified but excited. Word of caution: It gets real muddy especially in the rainy December, so anyone planning to take the buggy should layer well in preparation of getting down and dirty.
Our next and final ride was the luge. We crossed the hanging bridge to get to the entrance across the main cashier. We waited 20 or so minutes before we got our sleds, then once we got the go-signal: We took action.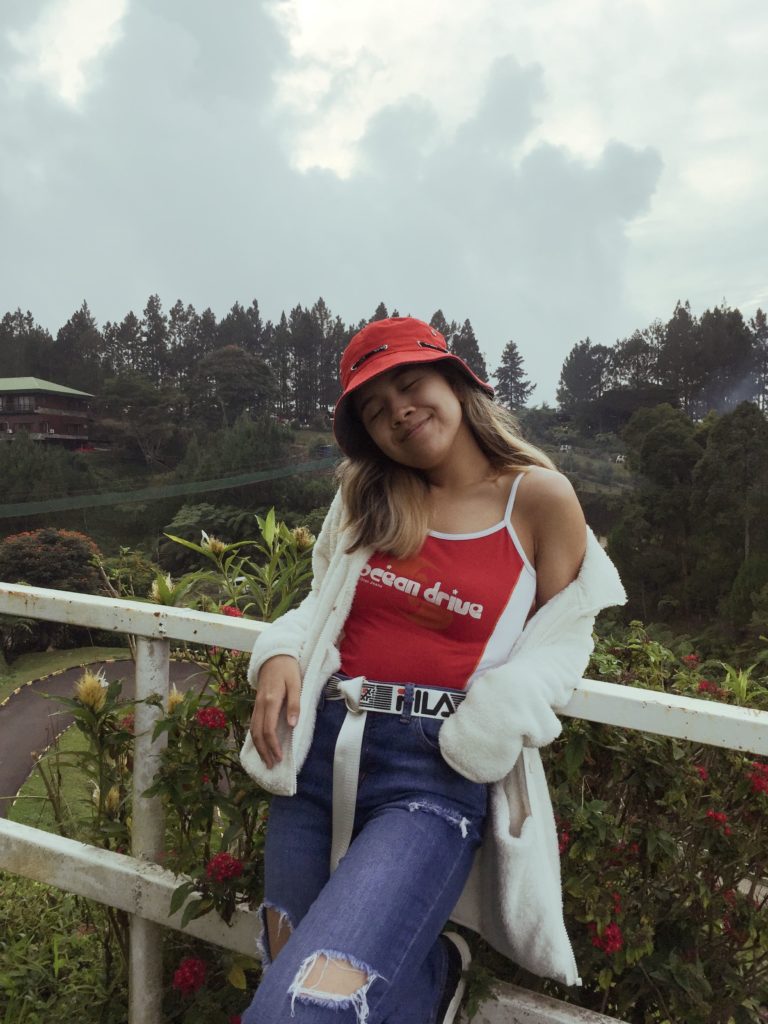 Sliding down the zig-zag hill as fast as we could, we expertly maneuvered each turn, all while adrenaline fueled both our laughter and screams. Feeling the wind whip past us as we slid forward was surreal– in that moment, it felt like anything was possible. Although it was the safer ride between our two activities, it was definitely my favorite. I would 10/10 recommend this for any free-spirits just hoping to let loose for a few minutes while appreciating a scenic view.
As the sun began to set, we bid the park goodbye and headed for home. We had a long trip ahead of us, and after a day full of fun and adventure, the only thing we wanted more than to go back was to get some much-deserved rest.
Even thrill seekers need to recharge.
Day 4
After such an eventful day yesterday, we took this time as an opportunity to wind down and relax. It was time for Ate Aika to fly back home for a work project, so while Dad drove her back to the airport, us girls stayed in the hotel and alternated between taking naps, snacking, and watching vintage films.
At around 3PM, our cousin-in-law, Ate Mai, picked us up from the hotel for a little trip down to their ranch. We stopped by a quaint little cafe hidden in Bonifacio Drive called "Bukidnon Brew Cafe" where we chatted over a delicious set of churros, chips, and beverages. Personally, I ordered a cookies and cream frappe that came in the most adorable lightbulb glass. Time to keep up Manila, we need more creativity like this!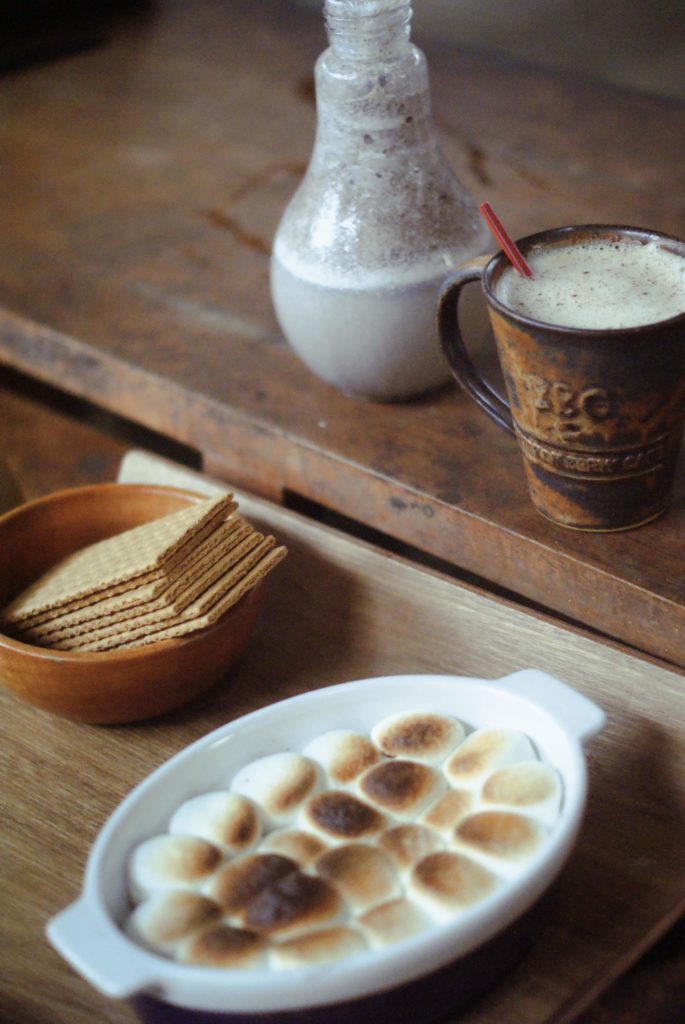 Once we finished, we set out for RJH Stables. RJH Stables is a large private ranch in Diversion Road for horseback riding enthusiasts. It was approaching sunset when we had arrived, making the place all the more beautiful. Set in the countryside, it was much colder than what we expected, but it was definitely a welcomed surprise. The trees swayed in synchronization with the wind, as the sun cast a beautiful shade of orange and blue against the sky.
Our cousin, Kuya Pao, met us together with their horses and introduced us to Fuego, one of their resident stallions. They helped me get on top of him and ride him around a fence enclosure for a few minutes. As a beginner, I was amazed to discover how attentive Fuego was to me– trotting slowly because I was still quite timid. Both Ate Mai and Kuya Pao are trained equestrians so after me and Ate Bearose played around with Fuego, they showed us how experienced riders really do it. The best part? RJH Stables takes wonderful care of their animals, so every horse was healthy, well-fed, and happy. 
As night began to fall upon us, we said goodbye to the horses and promised we'd come back soon for a bonfire with everyone.
The car pulled away from the breathtaking landscape, and I found myself sighing at the beauty of Bukidnon.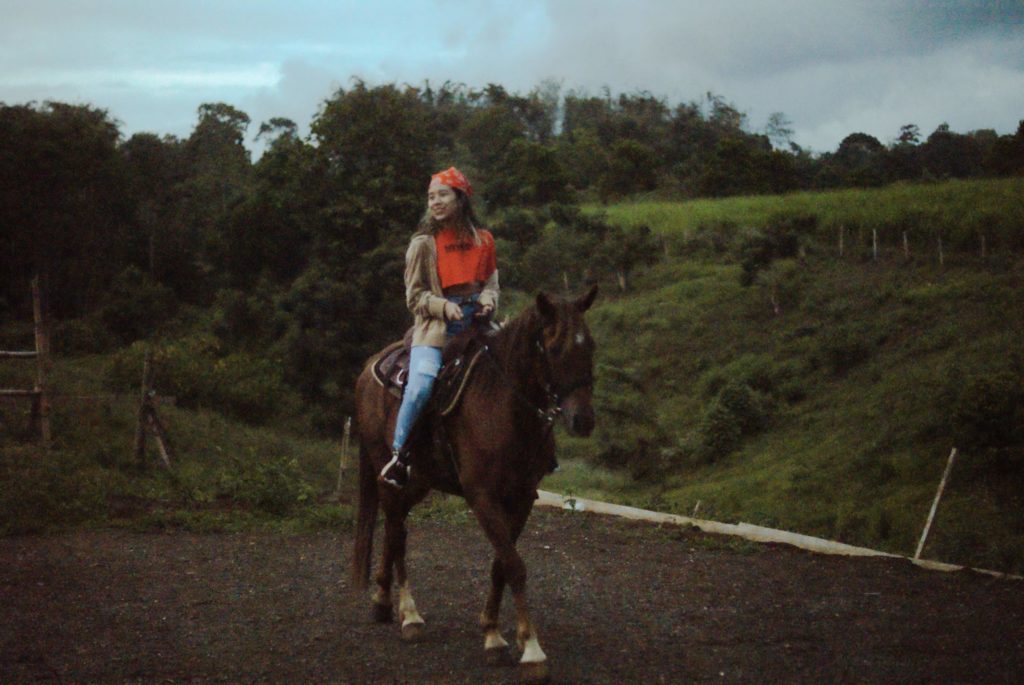 Malaybalay, you truly are a spectacle.

Day 5
We'd heard from many of our relatives here that we couldn't leave the area without visiting some of their best tourist attractions. Today, we decided to visit the highly-acclaimed Binahon Agroforestry Farm in. It's an 8-hectare upland farm that promotes sustainable agriculture, right at the foot of Mt. Dulang-dulang.
We arrived at around lunch time, so the place was mostly empty when we arrived. The employees were very efficient in welcoming us to the grounds, showing the family to their cafeteria where they offered us hot dalandan juice and pre-ordered our meals for them to ready after the tour. We decided to explore the place on our own, so we leisurely made our way around the park.
As you might expect, Binahon was laden with trees and healthy blooming plants beyond the eye could see. To our surprise, it was so cold, even our nieces and grandmother– who were obviously locals– were chilling in the breeze. Looking back, we probably should have anticipated the temperature considering we had gone somewhere completely surrounded by greenery. Although the winds were strong, it was lovely seeing the resident dogs napping serenely around us, clearly appreciating the fresh air. A hidden paradise? It seems so.
We walked through the paths, admiring their private plantations and well-maintained set ups. They had little greenhouses as well as large open spaces, a butterfly observatory, and a grand viewing deck that overlooked the horizon. This was a far cry from the parks we had back home. Over here, the caretakers ensured that litter was disposed of and cleanliness was of the utmost priority. Breathing in the fresh air felt right, because we knew even our surroundings were hygienic too.

Standing at the edge and taking in this awe-inspiring sight, I silently wondered about how strange it was that people typically hype up the city for having such carefully curated photogenic locations, when right here in the province, their own nature was worthy of being a National Geographic poster. I mean, just look at that view–there's no doubt in my mind that Bukidnon was handcrafted by God himself.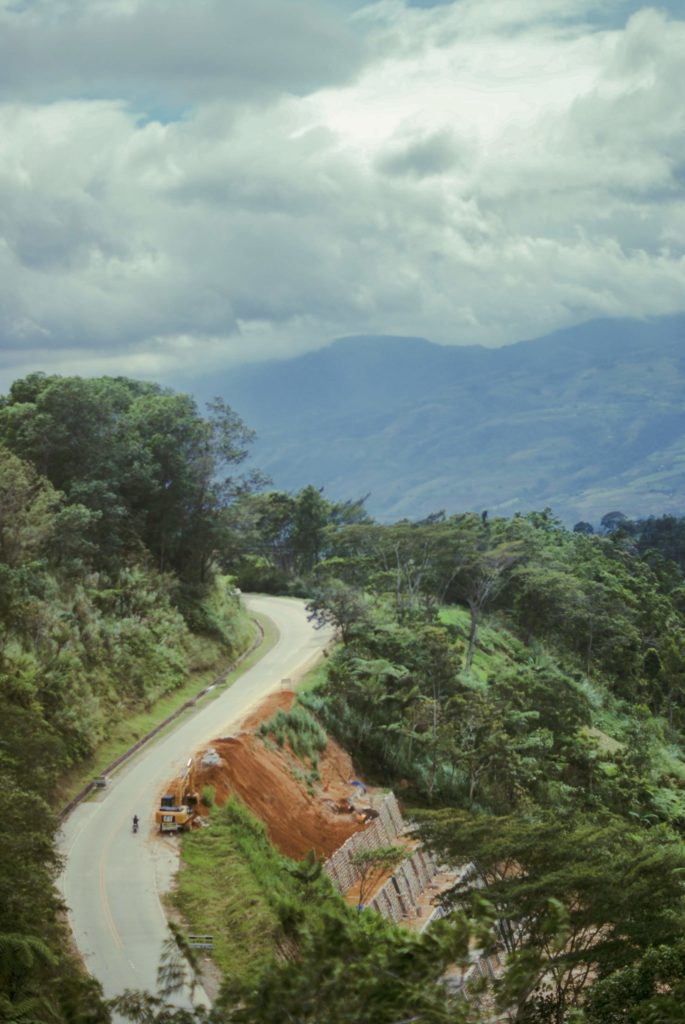 After we had finished swooning over the the landscape, we passed by rows of tall sunflowers that practically beckoned me to capture them on camera.
What can I say? I couldn't resist.
Our grandmother's van transported us down the narrow roads and back to the welcoming station, where our food awaited us in the cafeteria. After a chilly adventure through the forest, their fried fish and steaming hot soup combo was exactly what we needed to warm ourselves up.
Soon, it was time to wrap up and head to our second and last destination for the day before sundown. We all gathered back in our vans and made the short trip to Cafe Sa Bukid. I've mentioned that most of the routes have been charming, and this wasn't any different. This time, we even drove with the windows down because we needed to see the majestic mountains with clear, naked eyes. I highly recommend trying this for anyone making the trip too.
Once we arrived in Cafe Sa Bukid, I felt another wave of awe hit me as I looked up at the quaint two-floor restaurant. This was unlike any dining experience I've ever had– it was strategically located next to the sidewalk of Lantapan , giving the customers a mountain-side view that was so astonishing, it could have been a painting.
Inside, it was clear that the point of the cafe was to promote rawness and all things au-naturale. Signs reminded customers to remove their shoes upon entry, and that no wifi was available in order for people to "disconnect to connect". Even more interesting, there were no air conditioners or electric fans present– instead, we basked in the strong breeze that the open architecture offered.
Just like the ambiance, their menu selection did not disappoint! They're very generous with their servings here, so I highly recommend you order their pies– they give you two slices of pure heaven, right off the bat.
To be honest, the restaurant was relatively crowded and we did have to wait a while before we got our food, but don't let it deter you. This was the perfect place for us to wind down and get some time for ourselves. I loved sitting on the floor mats, and just observing the people around us, all while taking in the stunning view. Everything just felt so peaceful and slow. It was definitely a stark contrast from the hustle and bustle of Manila. In fact, knowing that it was our last full day in Bukidnon, my heart felt a tiny sting at the idea of leaving all this serenity behind.

So for that moment, I was more than happy to just bask and savor each second like it would last forever.
Day 6
With bags clattering down the staircase and suitcases being hauled into the car, I knew it was time to face the inevitable: It was time to go home.
As we piled into the van and headed for our grandmother's house to conclude our trip, I took in the quiet liveliness of Malaybalay in the early hour. Residents crossed their yards silently to tend to plants, kitchens hummed with the buzz of a stove, and our grandmother greeted us outside her room with a bittersweet smile. We said our goodbyes and promised her we'd be back soon. As each of us exchanged hugs, you could tell that we were already imagining our next return.
We had a long ride ahead of us once more, so it was time to get going. The family driver whisked us off to back to Cagayn De Oro in a span of 4 seemingly infinite hours. I was asleep for the most part, but awoke when we stopped over at Prawn House for lunch. I've always loved seaside restaurants, despite not being too fond of seafood, because of how calming a view the ocean was. This place was no different. We had the usual soup-and-fish combination, which I believe was the perfect way to end our wonderful Bukidnon trip– local style.
When it was time for us to finish the last few miles to get to the airport, I gazed out the window with wide eyes filled with wonder. Bukidnon had treated us with nothing but hospitality. Everyone was so quick to share the beauty of the land with us, inviting us to their favorite spots or family properties. It was amazing feeling like we were part of such a loving community for the past few days, and I couldn't thank our family here enough for letting us experience that.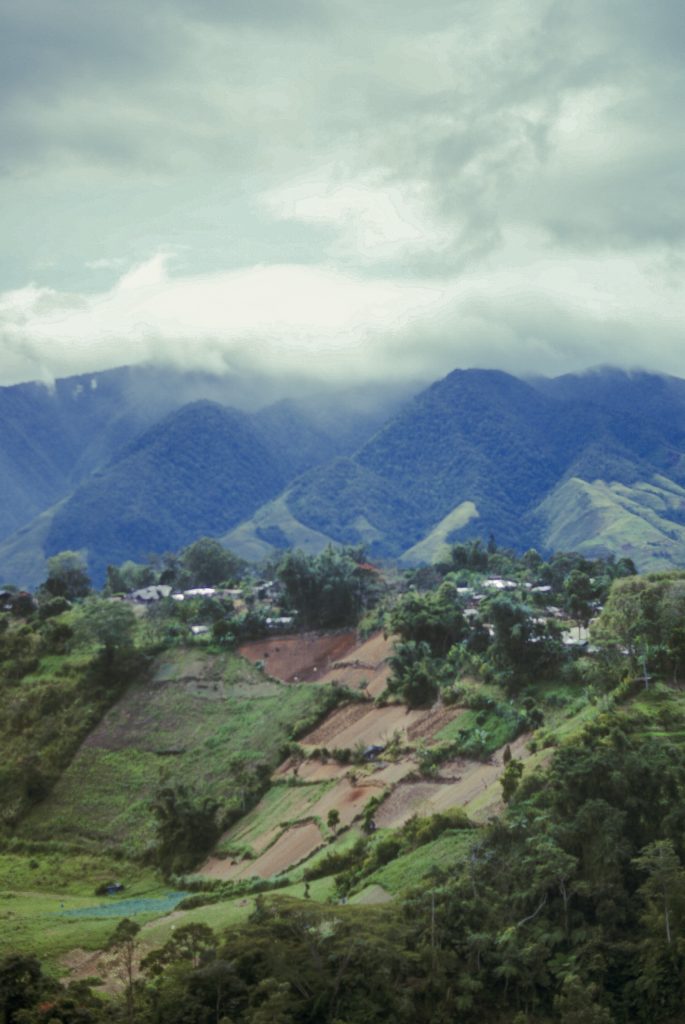 As we approached the Laguindingan Airport, I looked back at the road behind us one last time and said a silent prayer.
Thank you, Bukidnon, I thought. You are the embodiment of a home away from home.