There's no two ways about it– I love fashion shows. If I could attend fashion shows everyday for the rest of my life, believe me I would. But since the world is not an ideal place, and I can't spend my every waking moment gawking at gorgeous runway designs, I'll just have to make the most out of every chance I get to do just that.
This season, I had the wonderful opportunity to attend Bench Fashion Week Holiday 2019. Eclectic, diverse, and original– the 3-day event was every style enthusiast's dream come true with no two collections exhibiting the same kind of narrative. Every designer brought in their own stories to tell, and whether it was the anecdotes about your everyday Parisian woman (as seen in Lucy Torres Gomez x Kashieka) or a statement on the paradox of gendered-genderless clothing (as seen in Bench Design Award winner Han Sen Studios' PAGKAHARI), there was always a conversation waiting to be shared after every segment.
That being said, these stories deserve to be told, repeated, and immortalized. The language of fashion is an idiom easily disregarded or looked over, so I'm here to aid in the revival of that rhetoric. Today, I'm going to take you along with me on a visual journey of Day 1, where you can experience the world of fit and flare all from the comfort of your home.
But before we do that, I want to walk you through how I personally rose to the occasion of this task through my own outfit.
---
WHAT I WORE
Hollywood couture is something I've been interested in for a very long time. I love keeping up to date with the work of celebrity stylists and new RTW designers, because it's always fun getting to see how daring these creatives can get when they know a public figure who can rock anything will wear what they assemble. For BFW, I took a page from one of Hailey Bieber's 2018 outfits that I've been obsessing over for a while now, and put my own little spin to it.
I'm always committed to spending the least possible amount of money on my event looks without sacrificing the quality or integrity of the design, so I took it upon myself to build this powder-blue number resourcefully.
Top
I took a fitted button down from my own wardrobe and simply cut it up to my desired length. The trick here was choosing a top that had rather large front pockets placed directly on the chest area to break the monotony.
Bottoms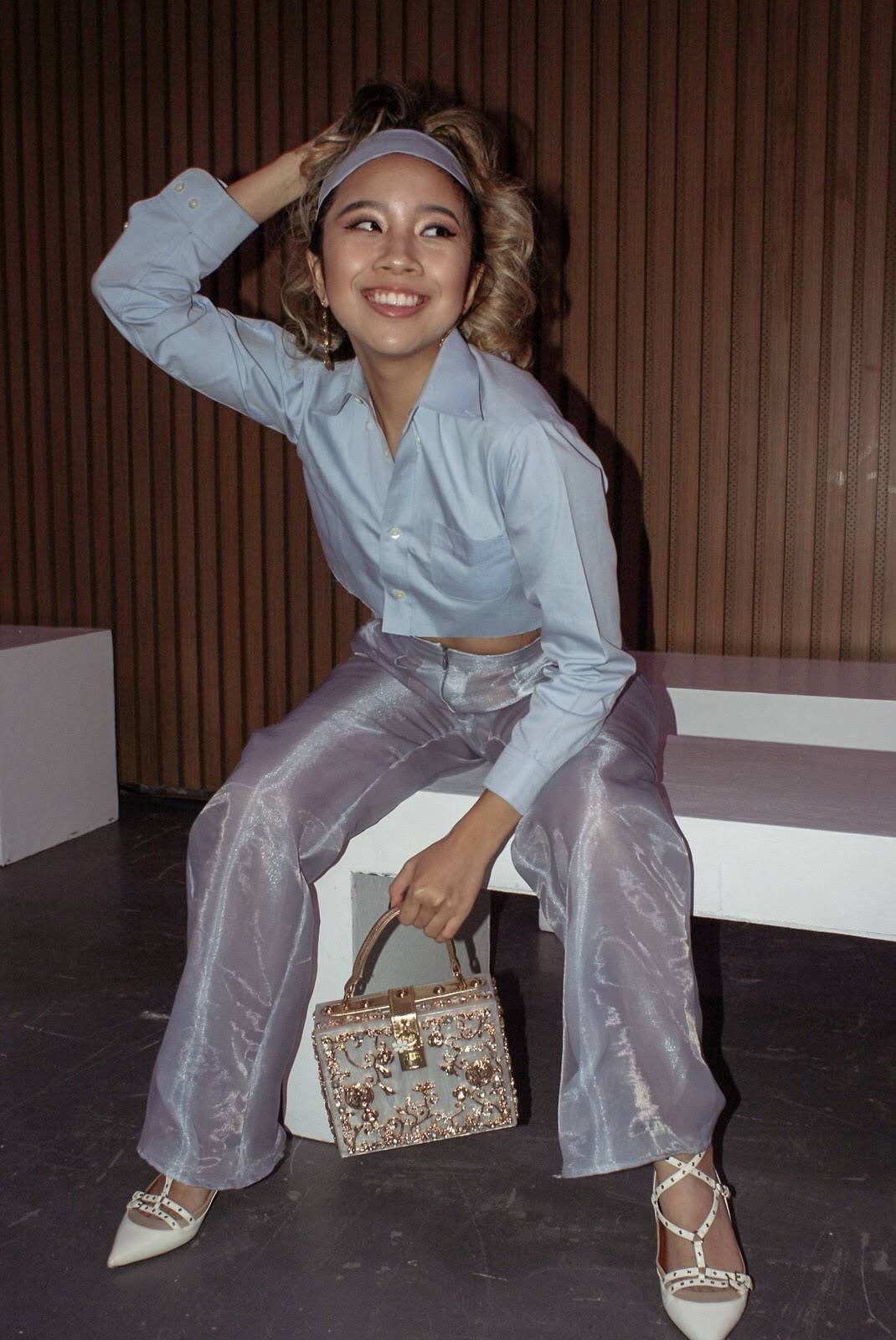 I knew this part was going to be the scene stealer, so I took to my favorite Instagram shop, Simple Sew, and had mine custom made by their talented team of seamstresses. Allow me to gush over them for a minute, because I couldn't believe how perfectly they brought my vision to life after just one alteration session and active communication. They aren't the type of people who just take your peg and mindlessly churn it out– they really take the time to converse with you about the fit, form, and fabric involved. Working with them was a very pleasant experience, because they were completely hands-on in the whole process and let me in on everything too. Not only did they produce these organza bottoms for me at an amazingly affordable price, the quality could have fooled anyone into thinking I got them straight off the runway!
Accessories
Remember what I said about being resourceful? My headpiece was just the leftover fabric from the remains of my top folded and tied like your usual headband.
As for my box purse, I can only credit my mom's closet for honoring me with its gorgeous golden brocade glory.
Shoes
For my pumps, I wore the Valentino Multi-color Two-Toned Ankle Strap Kitten Heels.
---
THE SHOW: BEST LOOKS FROM DAY 1
Now, are you ready to experience fashion week Bench style? Read on.
Lucy Torres Gomez x Kashieca
Effortless, elegant, and sophisticated– Lucy Torres Gomez's collaborative collection with Kashieca embodied all the elements of everyday Parisian chic. As the show's headliner, the sleek silhouettes, muted color schemes, and cleanly tailored details set the tone of understated refinement for the rest of the evening.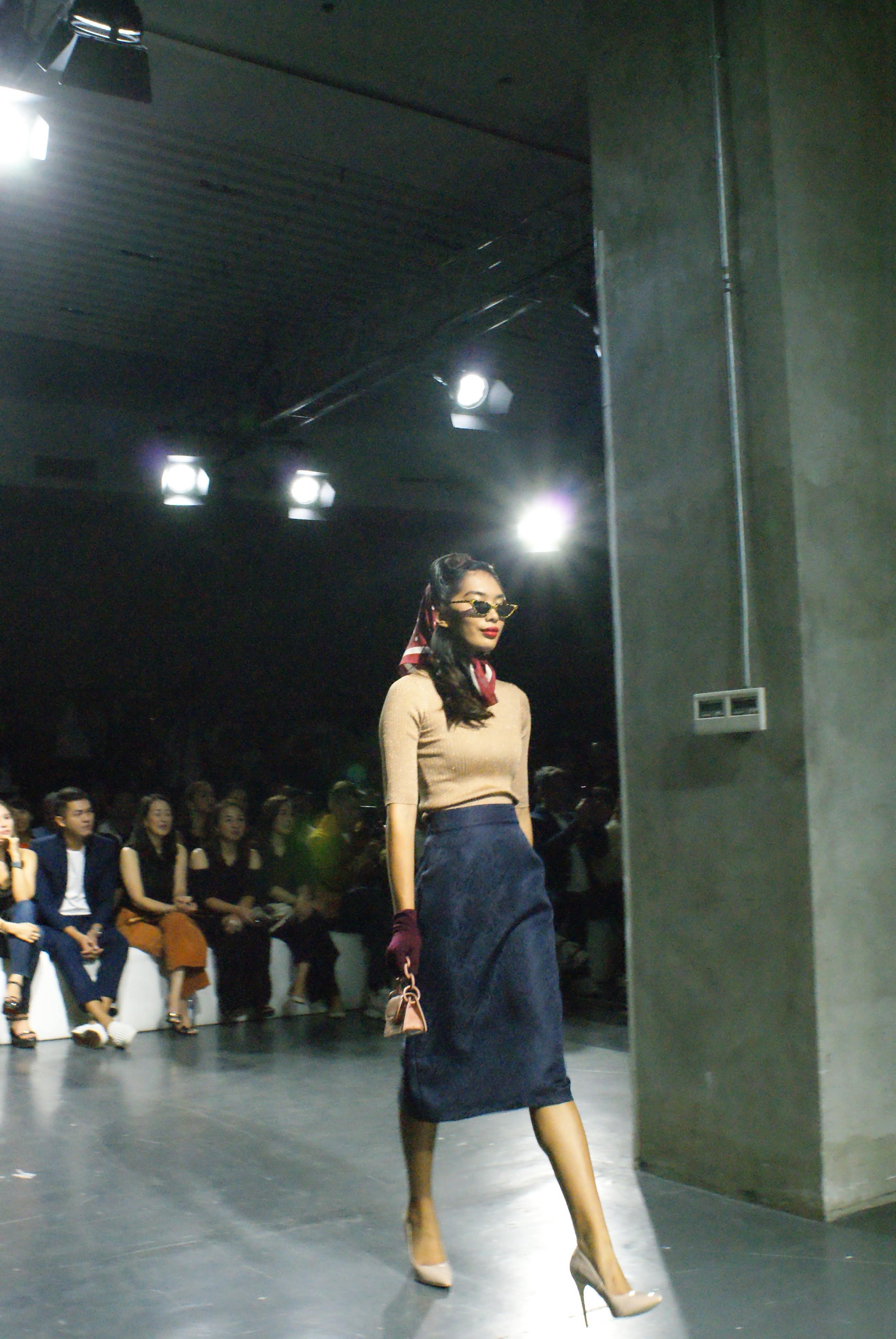 My pick: The best and most fitting description for this outfit is the French phase of positive ambiguity "je ne sais quoi" which refers to the indefinable characteristic of something that makes it attractive. There's just something so inexplicably flattering about a fitted yet loosely tucked turtleneck with a high-waisted pencil skirt that elongates the body in such a modest and ultra-femme manner. I especially like the mix of warm and cool tones through the accessories, particularly how dark sahdes of red, blue, and wine were tactfully combined given their proximity in the color spectrum. The uptown girl chic is also well illustrated through the Jacquemus-inspired mini bag and wrist-length gloves, both portraying the carefree, sans-practicality, rich girl lifestyle of our film-frenzied dreams.
Patty Ang x Bench
They say that art imitates life, but I always find that art imitating art is infinitely more enjoyable to explore. I couldn't help but fawn over Ang's color palette for this casual-to-work collection, given its similarity to filmmaker Wes Anderson's scheme for The Life Aquatic With Steve Zissou. Whether or not inspiration was truly drawn from the movie, I adored how the muted pastel elevated the understated nature of the pieces.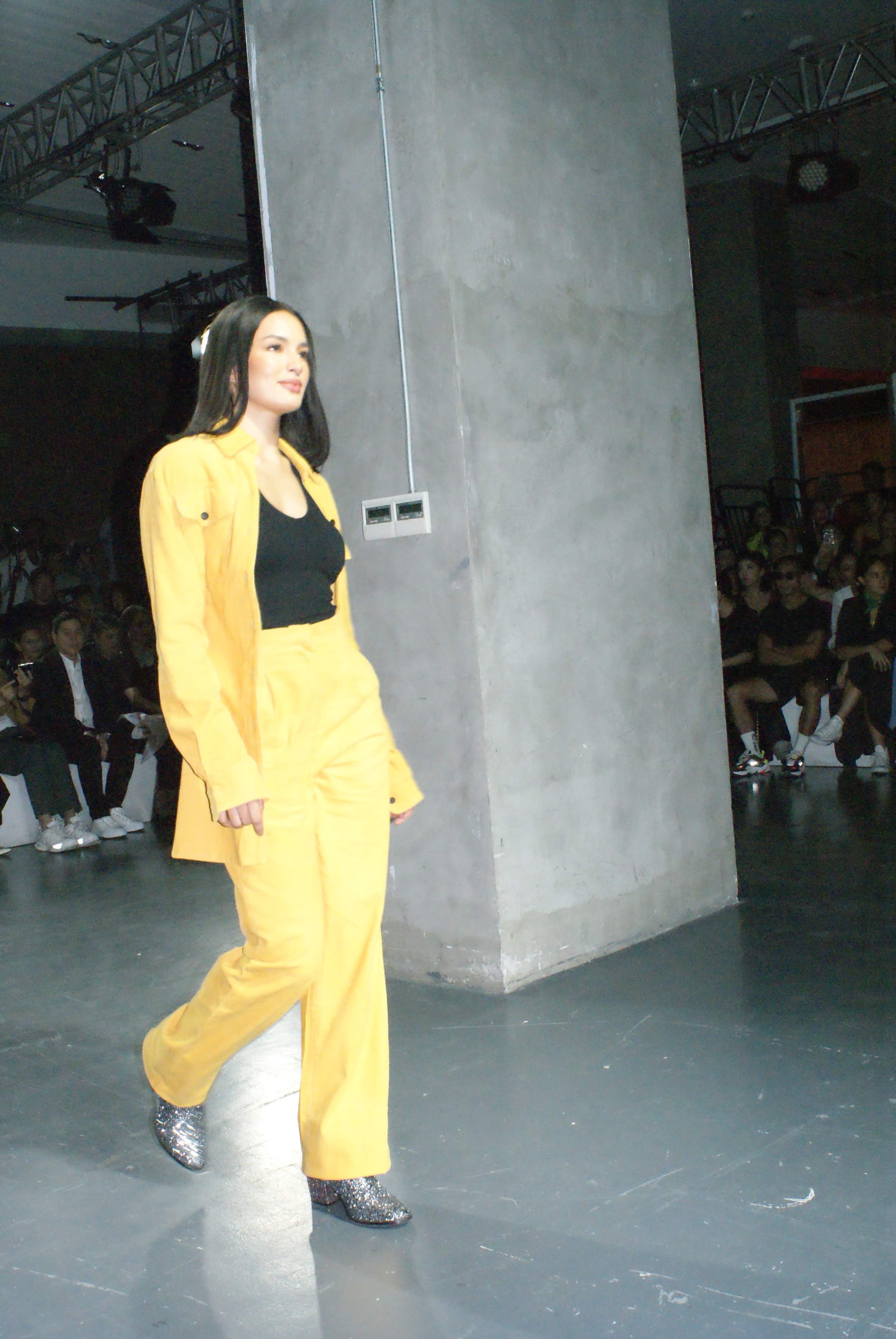 My pick: Going tonal was one of Fall 2019's most favored runway trends, and this ensemble proves it will continue to reign this season. I'm a big fan of yellow, but I do firmly believe that one wrong move, a soft tuscany tone can become a wildly unflattering neon. This double breasted blazer suit was simple and straight-to-the-point in terms of silhouette and form, but the gorgeous medallion hue took it from safe to stunning in an instant.
Albert Andrada Luxewear
Ending with a bang is too crude a statement to describe what Andrada did with his all-white collection. Instead, he closed the night with a hymn so symphonic, if gowns could sing lyrics, his would hum opera. The designs he presented took the maturity of luxury and gave it a youthful glimmer by reinventing traditional gown styles and adding function and flare.
My pick: As much as my style has been evolving towards more minimalism, I'll always have a penchant for all things opulent and lavish. But when you put modesty and magnificence in one look, now that's when you get best of both worlds. This tuxedo-style cape gown was the perfect contemporary take on the traditionally masculine suit jacket. The suaveness your everyday tux was present through the clean lines, white buttons, and tailored fit, while the flowing hem, low V neckline, and tweed lapels added that sultry touch.
---
A lot of people look at fashion shows and think of it as gathering of shallow snobs who like to play dress up for a few hours just to flaunt about it on their social media later, because they fail to see it as more than just a campy Instagram event. In truth, runway exhibits are a time of unity for creatives with a deep appreciation of fashion as an art form. Coming out of Bench Fashion Week, I felt very blessed not only to have witnessed in person the craftsmanship of these designers, but to be surrounded by people who also recognized the passion infused in each article of clothing and celebrated it with no pretense.
This night, I watched stories come to life in the form of fabric. Through sharing my experience with you, I only hope you fall in love with these tales too.