I've always been a firm believer in the idea that people should dress for the life they want, not for the life they currently have. Call it what you will, but the Law of Attraction has never failed to work in synchronization with my ambition, so overdressing is a concept that's always served me well.
Perhaps that's why fashion shows interest me as much as they do– being in an environment where prancing around in haute couture is not only normalized but celebrated too is such a powerful energy booster for people like me who live off the hype that good clothes give.
Last Friday, I attended the 4th and final day of the Panasonic Manila Fashion Festival together with my two friends in the creatives industry, Nina and Jed. The bi-annual event showcased 9 renowned designers from all over the metro and their stunning runway collections for a packed audience of style enthusiasts in the EDSA Shangri-la Hotel. The highly-acclaimed roster of exhibitors– Edgar Buyan, Dodjie Batu, Marichu Tan, Windel Mira, Bamba Limon, Egay Ayag, Emi Englis, Philipp Tampus, and Yong Davalos– all brought in their A-game with a variety of designs, each bringing in a range of individual flavors from traditional Filipiniana reimaginations to high-end Parisian couture.
Let me walk you through the evening.
Pre-Show
Preparations began at 12 noon in the 62A Salon along Katipunan Avenue. In a sudden wave of extra-ness, Nina and I made a spur of the moment decision to get our hair done. Thankfully, since the salon was just across my university, we made it there before rush hour, so the hairstylists were very accommodating in squeezing our appointment in. Nina decided to go for loose curls, while I opted for a slicked-back look ala Rosie Huntington Whiteley.
I also got my faux eyelashes installed here, because I've never been good at handling eyelash glue on my own. Having a professional make-up artist do this for me calmed me down a lot, because this meant I wouldn't have to worry about the falsies flying off mid-show when socializing and picture-taking is at its peak.
All of this took no less than an hour, so once my dad arrived to fetch us a little past 1, we went straight to my place where the rest of the pre-show shenanigans ensued.
Immediately once we arrived, The QR Manila had our dresses for the night sent over. The QR Manila is a high-fashion online rental store that focuses on providing designer and branded pieces for partygoers looking to, just like my blog's whole philosophy, channel chic for cheap. They so kindly agreed to help style my outfit for the show by sponsoring one piece from their collection for me to wear. Working with them was a total breeze because they were extremely hands-on throughout the whole process. From the selection to the payment to the delivery, they supplied me with prompt replies and sincere interest in making the whole experience fuss-free.
After weeks of back and forth exchanges, I finally settled on their Molly Mini Dress from Ruby Q. This was a stunning faux leather LWD with ecru fringes at the hem. It fit just right on my waistline, but since the bust was a little loose, I topped it off with a gorgeous Jacquemus-inspired top I got online because of its superb corset detailing and well-tailored trumpet sleeves. All together, I think it made a perfectly classy all-white ensemble. Finishing it off with my iconic gold pearl box bag and sparkling heels from Caparros, the luxurious accents tied everything in cohesively.
It took me around 3 rounds of shifting around my accessories until I eventually came to finished look. By 5pm, Jed picked up me and Nina, and the three of us finally made our way to show.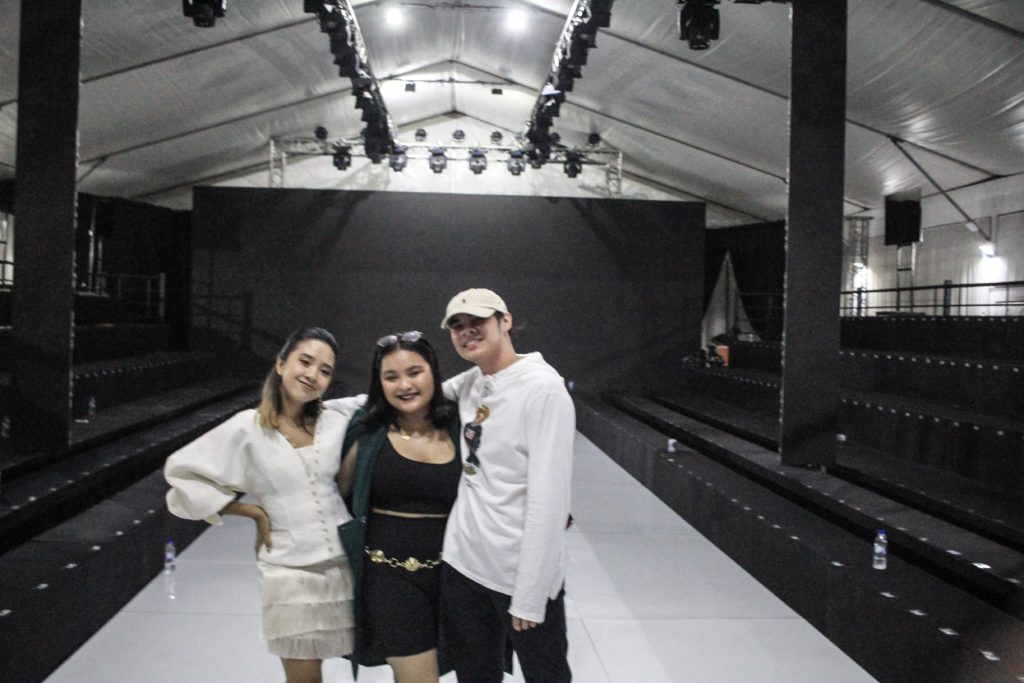 Show time
Disclaimer: Not all 9 designers will be featured in this post, as I'd like to focus on sharing my favorite collections only.
EDGAR BUYAN
The night began with an opening collection by Edgar Buyan. BRICOLAGE was characterized by vibrant colors and oversized silhouettes that juxtaposed two very different styles: traditional Filipiniana-wear and 90s clown costumes. I know what you're thinking– what does that even look like? Admittedly, I wasn't even sure if my observations were correct, but there was no doubt in my mind that his pieces were made to look like modern clownsuits reimagined as high-fashion shift dresses and tuxedos.
Edgar played with geometric patterns and abstract mosaics to create a fun and vibrant palette that, interestingly enough, gave the iconic Maria Clara attires a playful new take. This was an entertaining collection to witness, because it removed the sophistication of the baro't saya and replaced with the much less serious and "feminine" elements.
EMI ENGLIS
Just in time for Halloween, Emi Englis' AURUM collection took ancient Egyptian burialwear and gave it a sultry spin. Inspired by the kalasiris, shendyt, sarcophaguses, and sheath dresses of 30 BC, one would think that since Egyptian fashion is often associated with heavy adornments, these designs would also focus a lot on gold accessories. Surprisingly, this was not the case. Englis made an ingenious decision to highlight instead the iconic silhouettes from this ancient era themselves and replicate it through the fabric. For example, instead of using large headpieces to obviously showcase Egyptian influences, this mesh bodycon dress imitates the paintings typically seen on a sarcophagus. It's just as iconic as any other Egyptian element, but it's presented far less costumey.
EGAY AYAG
BAKYANG TOE by Egay Ayag was, what I called, the high-fashion version of The Little Mermaid. This underwater-themed collection utilized pastel shades you would often see in abstract paintings of the sea and its related elements. Fishes, coral reefs, and aquatic faura and fauna decorated Ayag's repertoire. It was great seeing someone tackle a sea-centric scheme without literally trying to recreate sea creatures into clothing. Not only was this actually wearable, but using rompers, cocktail dresses, and button down sets as the canvases for the designs also put it at the league of formalwear with heavily artistic influences.
YONG DAVALOS
And of course, saving the best for last, I couldn't resist topping off my PMFF recap with Yong Davalos' drop-dead gorgeous LE MARIN. True to its namesake, this stunning collection takes inspiration from fashion capital and the city of love itself, the beautiful Paris. French fashion is characterized by understatement, elegance, and nonchalance. Their clothes are often made creative by the introduction of tailored details or pops of bold accents– this could mean either funky accessories or a daring cut that flatters the body in a subtly sensual manner. Davalos' work utilized the iconic ease ascribed to the French through her linen fabrics, flowy and breathable elements, and romantic features. Corset tops, ribbons, ruffles, and berets– these characters captured my heart the instant the models cascaded down the runway in them, and I haven't stopped fawning over them since.
I love era-specific designs, so seeing Parisian couture ala 1950s was incredibly exciting on my part. Without a doubt, this was my all-time favorite collection from the entire evening, so I definitely left the show thinking about the feasibility of breaking in backstage and snagging all the looks for my own wardrobe.
Post-Show

Once the show concluded, my friends and I made a beeline for the main lobby where the bulk of our Instagram shots took place. It was incredibly crowded, for sure, but it buzzed with the energy of likeminded creatives who just finished witnessing art on legs. We took some pictures by the San Miguel booth, then proceeded to get some runway photos back inside. For this leg of the event, I collaborated with Arkin of @visualsmnl to create a set of post-show snaps. I had a little bit of an emergency with my dress, so our shoot was, unfortunately, cut short. Nevertheless, the shots we did get to take turned out amazing thanks to Arkin's incredible eye.
I went home this night still buzzing from everything that I saw. The Panasonic Manila Fashion Festival never fails to amaze me with their world-class roster of designers and highly imaginative productions. I can't wait to see what next season has in store, but whatever it is, I'm sure it will lead me just as breathless as it did this time and the last.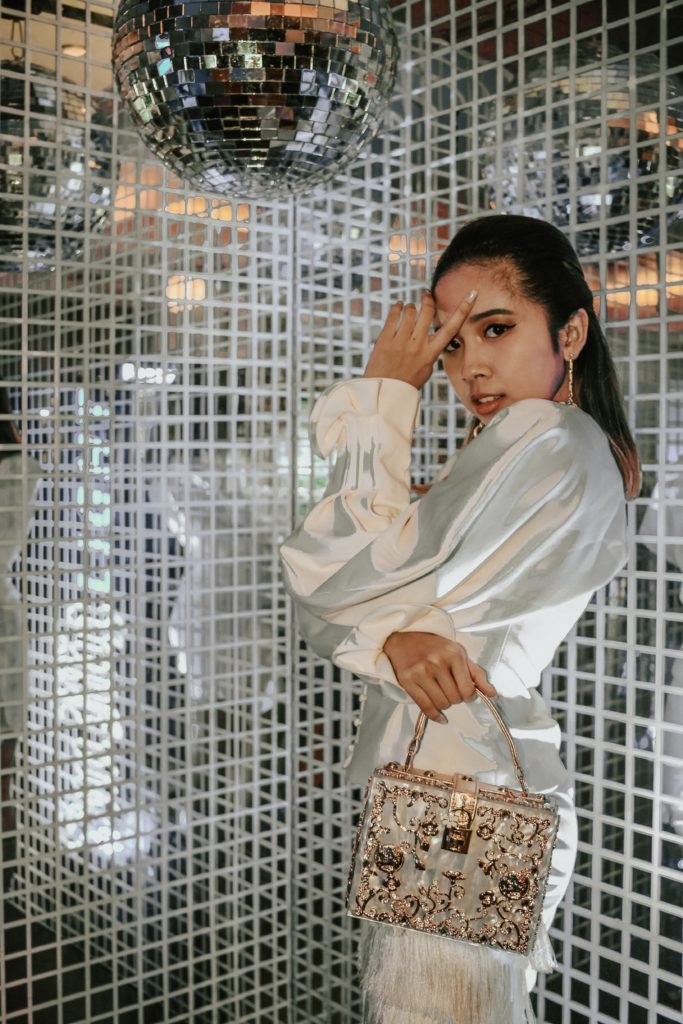 ---
For designer and branded rentals, visit The QR Manila on Instagram. Just mention "FRANCES" during checkout for a 10% discount.
To view Arkin's photography work, follow him on Instagram.